*November 30, 2005 - *Olympus USA announced on Monday its new H-Series of xD-Picture cards with the new H512 MB xD card, which can store 512 MB of information and offer write speeds 2-3 times faster than the Standard or Type M xD cards (exact write speeds vary depending on camera model). The H512 MB Type H-Series xD-Picture Card will soon be joined by H-Series cards that can store 256 MB and 1 GB. All cards will have the H512's physical measurements of 25 x 20 x 1.7 mm.
Business Manager John D. Blakeslee of Digital Memory Products indicated that Olympus will eventually develop cards that are even larger, saying, "The rising pixel count and the advanced video-recording functions for digital still cameras are driving demand for digital camera memory media with higher speed performance. Olympus plans to apply this high-capacity, high speed memory technology to develop the xD-Picture Card for Olympus digital cameras with memory capacities of up to 8 GB."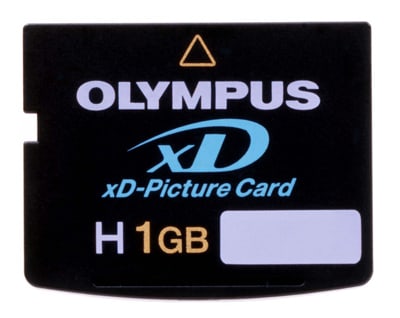 The new H512 MB Type H-Series xD-Picture Card was announced in Europe on Friday of last week, and is being heavily marketed there for its ability to take full advantage of in-camera art effects in Olympus digital cameras.
The European press release states, "Even a perfectly-exposed, crisp image does not always convey the mood intended. As experts will testify, digital photography can offer a remedy – one that will be all the more powerful with the release of the Olympus High Speed xD-Picture Card. 'Oil painting', 'cartoon art' and 'water colour' effects mimic a painter and express the vital elements of a picture while ignoring any irrelevant detail."
The new H512 xD card is branded with an 'H' next to its memory capacity, and has the xD-Picture Card logo in blue rather than gold or silver. The card will become available in December of 2005, though Olympus did not indicate an initial price.