Cameras
Olympus Unleashes 9-Camera Flood at CES, including SP-590UZ, Stylus-9000, Tough-800 and Stylus 550WP
Olympus introduces 9 new cameras at CES including a record-setting ultra-zoom, a new version of the company's HyperCrystal display technology, and two cameras using the "tap control" feature introduced with the Stylus 1050 SW last year.
*January 7, 2009 - *Out of 28 digital camera introduction we're expecting at CES in Las Vegas this week, Olympus accounts for nearly one third of the total, including a record-setting ultra-zoom,  a new version of the company's HyperCrystal display technology, and two cameras using the "tap control" feature introduced with the Stylus 1050 SW last year.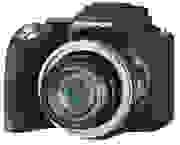 For those who felt the company's previous 20x-zoom SP-565UZ and SP-570UZ didn't offer enough neighbor-snooping power, Olympus now unveils the SP-590UZ with a 26x optical zoom lens. The lens is equivalent to a 26mm-676mm lens in 35mm photography, with a maximum f/2.8-5.0 aperture.  To help produce sharp handheld photos with this extreme ultra-zoom, Olympus combines sensor-shift image stabilization with ISO-boosting digital image stabilization. The camera shoots at up to 12-megapixel resolution, with shutter speeds ranging from 1/2000 – 1/2 second (up to 4 seconds in Night Scene mode), with available ISOs from 80-1600. While the SP-590UZ offers full manual, aperture-priority and shutter-priority shooting, it is also newbie-friendly, with automatic mode plus 19 scene modes and movies at 640x480 and 320x240. Even without a high-def movie mode, the camera is equipped with an HDMI output for displaying still images in high resolution on an HDTV set.
Considering its telephoto prowess, the SP-590UZ is quite compact measuring 4.3 x 3.5 x 3.9 inches (110 x 89 x 98mm) and weighing in at 13.2 ounces (373g) before adding the four AA batteries.  The screen is also modestly sized, at 2.7 inches (6.9cm) with 230,000-dot resolution.  The SP-590UZ is scheduled to ship in March for $449.99, matching the current pricing for the 570UZ.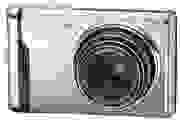 The enhanced LCD screen shows up on the Stylus-9000, one of two new ultra-compacts with extended zooms. Olympus LCD displays use what the company calls HyperCrystal technology to allow some of the light that hits the front to penetrate and reflect back from behind, brightening the display in bright environments. The company claims that the new iteration, called HyperCrystal III, will be twice as bright as previous versions. It debuts in the Stylus-9000's 2.7-inch (6.9cm) display. The camera offers a 10x optical zoom (28mm-280mm equivalent) and a 12-megapixel sensor in a lightweight 6.5 ounce (185g) package (without battery). The Stylus-9000 will cost $349.99 when it ships in February. Its compact camera cousin, the Stylus-7000, ships at the same time for $299.99, with a 7x optical zoom, 12-megapixel resolution and a 3-inch HyperCrystal II LCD at a featherweight 4.7 oz. (132g).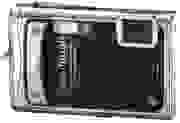 The tap control system, which allows gloved users to input a limited number of commands by simply tapping the top, back and sides of the camera, turns up in the new Stylus Tough-8000 and Tough-6000 cameras, the latest in the ongoing Olympus series of ruggedized point-and-shoots. The 12-megapixel Tough-8000 can survive 33-feet underwater, a 6.6-foot fall, 220 pounds of pressure and freezing temperatures. The Tough-6000 is, as the numbers would imply, a bit less tough, with 10-foot waterproofing and a 5-foot drop rating. Both cameras provide sensor-shift image stabilization and a 3.6x optical zoom (28mm-102mm equivalent). The Tough-8000 will ship in February for $399.99, the Tough-6000 in January for $299.99. And for waterproofing without the heavy-duty armor of the Tough-series cameras, the new Stylus 550WP offers 10-foot water resistance in a 10-megapixel, 3x zoom model priced at $199.99, scheduled to ship in February.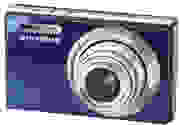 Finally, Olympus introduced three new cameras in the lower-cost FE series. The FE-5010 is a 12-megapixel model with a 5x zoom, sensor-shift image stabilization and a 2.7-inch LCD, priced at 189.99. The FE-3000 and FE-3010 deliver 3x zoom, without the hardware image stabilization system, with 2.7-inch screens and metal camera bodies weighing 3.8 oz. (108g). The FE-3010 ($149.99, available in January) provides 12-megapixel resolution in an 0.70-inch-thick body, while the FE-3000 ($139.99, February) is a 10-megapixel camera measuring 0.77 inch front to back.  In addition to the modest price and megapixel differences, the two FE cameras offer different color schemes for the style-conscious, with the FE-3010 making its appearance in plum, navy blue and black, the FE-3000 in light blue, black and silver.