Cameras
Olympus Unveils Micro Four Thirds E-P1
Olympus today announced its first Micro Four Thirds camera, the E-P1, with a 12.3-megapixel sensor, 720p video recording capability and a distinctive retro look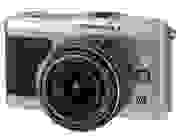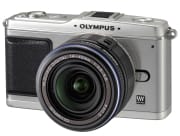 June 16, 2009 – In one of the most highly anticipated (and widely leaked) product announcement of the year, Olympus today announced its first Micro Four Thirds camera, the E-P1. With a 12.3-megapixel sensor, 720p video recording capability and a distinctive retro look, the E-P1 is scheduled to go on sale in July for $749.99 (body only), $799.99 with a 14-42mm zoom lens or $899.99 with a 17mm lens and accessory optical viewfinder.
Unlike the first Micro Four Thirds camera, the Panasonic LUMIX G1, which looks like a small SLR, the Olympus E-P1 is a direct descendant of the Olympus Pen rangefinder cameras of the early 1960s. The distinctively retro-looking body will be available in two styles, a silver model with black grip pad on the front and an unusual white model with tan grip.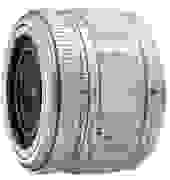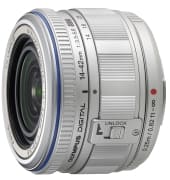 The fundamental promise of the Micro Four Thirds format is an interchangeable lens camera with a smaller, thinner body, since the mirror box used in SLR designs is eliminated in favor of Live View. The E-P1 body weighs 11.8 oz. (335g) without lens and measures 4.74 x 2.75 x 1.37 inches (120.5 x 70 x 35mm), making it more pocket-friendly than an SLR, though still better suited to a jacket than a air of jeans. Olympus has also taken a clever tack when it comes making the new f/3.5-5.6 14-42 zoom (equivalent to a 28-84mm on a 35mm camera) more portable. The lens collapses to roughly half its depth when not in use. Bringing it out to full length is as simple as turning it counterclockwise. To shorten it again, you push a switch and turn clockwise.
The E-P f1 features a 3-inch, 230,000-dot LCD using Olympus' HyperCrystal technology, which helps maintain visibility even in bright sunlight. The camera marks the introduction of the new TruePic V image processor, which based on samples supplied by the company appears to reduce the image noise which has been an issue with Four Thirds-size sensors.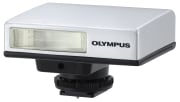 As with Olympus SLRs, the E-P1 includes in-camera image stabilization and a sensor-vibrating dust reduction system. However, the camera lacks a built-in flash. Olympus plans to ship the pocket-size FL-14 flash as an accessory, but it lacks bounce capability.
The E-P1 also incorporates the six Art Filters offered in the E-30 and E-620 SLRs, with two interesting twists. First, the filters will now be available as in-camera editing effects for images you've already shot in addition to filters that affect the original shot as it's taken. Also, the same six Art Filters (Pop Art, Soft Focus, Pale & Light Color, Light Tone, Grainy Film and Pin Hole) will be available while shooting video. The hitch here is that, given the processing required to alter each individual video frame, the video frame rate is slowed noticeably and, in our hands-on demo, sometimes radically.
The E-P1 supports video recording up to 1280x720 (720p) resolution, at 30 frames per second, with stereo audio, stored in Motion JPEG format in AVI files. Individual video files are limited to 2 gigabytes which translates to 7 minutes of recording time at maximum resolution or 14 at standard definition. Up to 30 seconds of audio can also be recorded when shooting stills. A mini-HDMI jack allows direct connection for video or photo output to an HDTV set.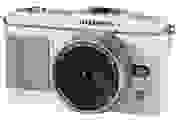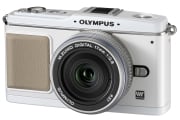 For still photography, shutter speeds range from 1/4000 second to 60 seconds, plus bulb up to 30 minutes, and the ISO range is 200-6400. Burst rate is approximately three frames per second.
As with all Micro Four Thirds cameras, autofocus is limited to contrast detection, in this case with 11-area multiple autofocus in addition to a face detection system that can handle up to eight individuals. The camera does not have an autofocus illuminator lamp, though, which in combination with the lack of built-in flash could pose problems.
Photographic niceties include the e-Portrait mode (available while shooting or as an in-camera editing option) to smooth skin complexion, a digital level gauge display and multiple exposure capability (again, available during or after shooting). Four aspect ratios (4:3, 3:2, 16:9 and 6:6) are supported. Nineteen scene modes are provided.
The E-P1 includes an enhanced slide show option, which can combine still images and videos in a single presentation. Olympus also commissioned five pieces of music to include in the camera as backgrounds for movies or still image slide shows.