February 26, 2006 — In a joint press conference with Olympus this morning, Panasonic unveiled the Lumix DMC-L1, their first digital SLR. Reflective of an agreement made between Olympus and Panasonic a little over a year ago, the L1 contains a number of technologies jointly developed between the two manufacturers. Like the recently announced Olympus EVOLT E-330, the Panasonic L1 offers a 7.5 megapixel 4/3 Live MOS sensor with Live Preview available on its 2.5" LCD screen, Olympus' Supersonic Wave Filter for keeping dust off the sensor, and a depth of field preview button.
The DMC-L1's Panasonic heritage is reflected in its Venus Engine III image processing LSI, which according to Panasonic's press release was specifically "developed to maximize the performance of the Live MOS sensor." The processor also consumes 80% less power than Panasonic's Venus Engine II while reducing noise and improving overall camera speed. The L1's LCD also has a little less resolution at 207,000 pixels than the Olympus E-330's 215,000 pixel LCD, though the L1 does have a dedicated mode dial for controlling shutter speed. It also takes SD cards, while the E-330 takes CompactFlash and xD-Picture Card media.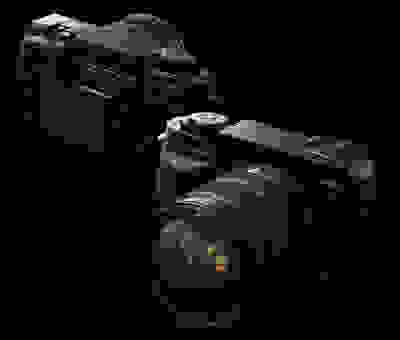 The live view is new technology for DSLRs, the key to which is the new Live MOS sensor. It has the fine image quality of a CCD, but the low power consumption of a CMOS chip. Inside a DSLR, the sensor is positioned so that the distance from the microlenses to the photodiodes is short, making for quick response time and improved quality when light hits the sensor at an angle.
Panasonic has also teamed up with Leica to create digital-specific 4/3 glass, resulting in the new Leica D Vario-Elmarit 14-50mm/F2.8-3.5 ASPH lens, which incorporates Panasonic's MEGA Optical Image Stabilization system and has an aperture control ring in addition to its focus and zoom rings. It has a 35mm equivalency of 28-100 mm.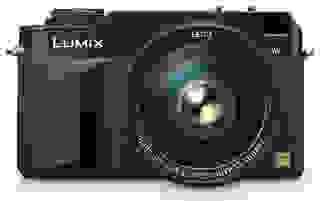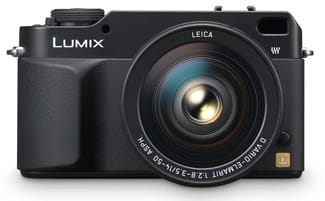 Also involved in today's press conference was Sigma, exhibiting five lenses designed for the four-thirds system. Among these are a 30mm f/1.4 EX DC FT (equivalent to 60mm on a 35mm camera), an 18-50 f/2.8 EX DC FT, announced in 2004, which is equivalent to 36-100mm in a 35mm format and an APO Macro 50-500mm f/4-6.3 EX DG lens, which is equivalent to 100-1000mm.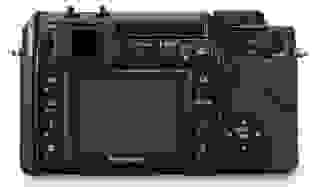 The overall impression left with spectators was one of synergy and potential. The evolving standardized system will incorporate SLR bodies from two strong camera manufacturers along with established lens systems to expand interchangeability and potential within the rapidly growing DSLR marketplace.