Cameras
Panasonic Adds Six Models to Compact Lineup: DMC-ZS3 and ZS1, DMC-TS1, DMC-FX48, FX580 and DMC-FS25
Panasonic introduced six new cameras: DMC-ZS3 and ZS1, DMC-FX48 and DMC-FS25
January 27, 2009 - At a press event held in Miami today, Panasonic introduced six compact cameras slated for April release.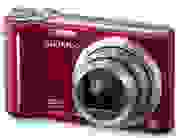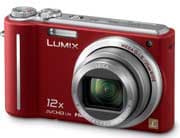 The company bid adieu to the TZ series as their high-end compact camera designation, replacing it with the ZS series. The first members of the ZS family are the Lumix DMC-ZS3 (shown) and DMC-ZS1. Both models deliver 10.1-megapixel resolution and a 12x zoom lens (25-300mm equivalent) in cameras that weigh less than half a pound. The ZS3 adds Face Recognition technology that automatically recognizes faces you've registered in memory. When the known face appears in a group shot, the camera prioritizes focus and exposure on that individual, while displaying the person's name on screen (no photographic value in the latter, but very Terminator). The ZS3 also records 1280x720 high-definition video, storing files in a new format called AVCHD Lite, a 720p-only subset of the established AVCHD HD compression format. A mini HDMI output jack allows easy playback of photos and video on an HDTV set. The ZS1 offers standard-definition video recording at up to 848 x 480 resolution.
The two camera bodies are the same size, at 4.07 x 2.35 x 1.29 inches (103.3 x 59.6 x 32.8 mm) and 7.3 oz. (206g), though the ZS3 has a more impressive 3-inch LCD display with 460,000-dot resolution  compared to the 2.7-inch, 260,000-dot screen on the ZS1. Both include optical image stabilization and are powered by rechargeable lithium ion cells. The ZS3 ($399.95) will come in silver, black, blue and red, while the ZS1 ($299.95) sticks with traditional black and silver.
The 12.1-megapixel Lumix DMC-TS1 delivers several features of the ZS3, including the AVCHD Lite video recording format and Face Recognition system, in a ruggedized package that makes beachfront photography far less stressful. The TS1 is waterproof to 10 feet (3m), shockproof to 5 feet (1.5m) and dustproof. The 4.6x zoom lens is equivalent to a 28-128mm lens in 35mm photography, with a maximum aperture range of f/3.3. The TS1 measures 3.87 x 2.49 x 0.91 inches (98.3 x 63.1 x 23.0 mm) and weighs 5.7 oz. (162.5g), with a 2.7-inch (68.6mm) LCD. It  will be available in silver, green and orange, priced at $399.95
Another newly introduced model, the Lumix DMC-FX48, shares the new Face Recognition technology found on the ZS3 in a much smaller camera, measuring 3.75 x 2.08 x 0.85 inches (95.3 x 52.9 x 21.5 mm) and weighing 4.5 oz. (128g). The 5x zoom lens is the equivalent of a 25-125 in 35mm photography, with a maximum aperture of f/2.8 at the widest setting and f/5.9 at maximum zoom. The FX48 also records 720p video, storing it in the standard Motion JPEG format. The LCD is a relatively small 2.5-inch version with 230,000-dot resolution, the color choices a conservative silver and black, the price $349.95.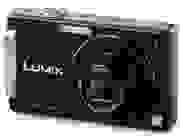 The FX580, a 12.1-megapixel model, features a 3-inch touch-screen display and a 5x optical zoom, priced at $399.95. It also incorporates Face Recognition technology and 720p video recording. The zoom is equivalent to a 25-125mm, with a maxiimum aperture of f/2.8, making it notably fast and wide. The touch-screen interface can be used for choosing the priority area for focus and exposure, adjusting white balance and color tempreature, and scrolling quickly through images during playback. The FX580, which measures 3.74 x 2.25 x 0.86 inches (94.9 x 57.1 x 21.9 mm) and weighs 5.1 oz. (145g), will be available in silver and black.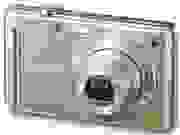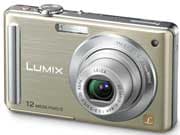 Following up on the January 15 announcement of two new FS-series models, Panasonic added another camera at the top of this line. The Lumix DMC-FS25 offers 12.1-megapixel resolution, a 5x zoom lens and 3.0-inch LCD, priced at $249.95. Like the recently introduced FS15, the FS25 incorporates autofocus tracking, which follows a moving subject without having to hold the shutter button down. The DMC-FS25 weighs in at 4.4 oz. (126g) and measures 3.82 x 2.28 x 0.86 inches (97.0 x 57.9 x 21.8 mm). It will be available in silver, black and gold.