*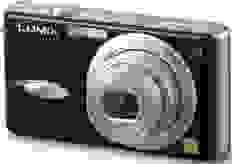 May 9, 2005 *– Updating last year's 5-megapixel FX7, Panasonic announced the 5-megapixel FX8 today. Sure, they both share the same pixel count on a 1/2.5-inch CCD, but the new FX8 packs in a more efficient Venus Engine Plus image processor rather than the old Venus Engine II. With the Plus image processor and some other power saving functions, the FX8 can take twice as many pictures as its predecessor on a single battery charge. The Panasonic Lumix FX8 also boasts improvements on its movie mode, auto focus system, and scene mode selection. Both cameras have 2.5-inch LCD screens, Leica 3x optical zoom lenses and image stabilization modes.
The two image stabilization modes will be better utilized on the Lumix FX8 with its 640 x 480 and 320 x 240-pixel movie modes. With respective frame rates of 30 and 10 frames per second, users can get fairly smooth video clips if desired. These can be played back with audio on the 2.5-inch LCD screen that has 114,000 pixels.
Panasonic's FX8 may have a faster auto focus system that reduces shutter lag, but its burst mode still shoots at the same 3 fps rate of the earlier FX7. Both cameras offer manual white balance and fine tuning in degrees Kelvin. They also share a similar 3.6 x 1.9 x 0.9-inch body size. Like the FX7, the Lumix FX8 comes in black and silver – but also adds blue and pink to its repertoire of stylish color offerings.
The Panasonic DMC-FX8 also adds three more scene modes to its list, for a total of 12 available scene modes. The new Soft Skin mode softens details (i.e. blemishes) for smoother looking skin. The Food mode aims to capture the natural color of food despite lighting conditions. The most unique scene mode is titled Baby and softens the focus slightly similar to the Soft Skin mode. The biggest difference between these two modes isn't in the actual imaging; it's in the file info. In the Baby scene mode, users can enter birthday info for a baby, which is saved and recorded on every picture taken in that mode. For photographers who can't decide between scene modes, there is a Help menu available. And for those users who want to just point and shoot, Panasonic includes a Simple Mode.
There is no pricing or availability information at this time. For comparison sake, the Panasonic FX7 retails for $399.95, but can be found for about fifty bucks less online. The new Panasonic FX8 can take about 300 shots with its updated Venus Engine Plus image processor and boasts a better movie mode, auto focus system, and scene mode offering.