December 9, 2004 — Panasonic announced an ultra-thin 3-megapixel image sensor built specifically for camera phones today. The v Maicovicon™ is not a CCD or CMOS; this sensor can array 3 megapixels of information in a wafer-like format to produce clear pictures from a smaller sensor. The sensor is credited to use one fifth of the power required by a CCD.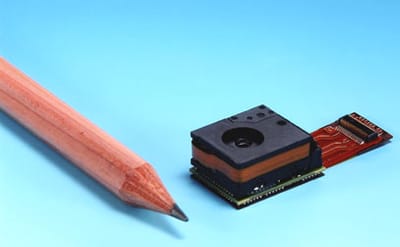 "Conventional 3-megapixel Charge Coupled Device and CMOS image sensors are not small enough to design compact camera modules, resulting in bulky mobile phones," said Satoru Masuda, the director of engineering at Panasonic. Masuda said advanced mounting and image processing technologies, as well as thinner lenses, have contributed to an overall reduced size in camera phones recently.
The Panasonic v Maicovicon™ will be used in the new Panasonic GP-KM3500V camera phone module, which will have auto focus capabilities and even an image stabilizer packed in the thin 8.63mm package. The thin module was formed by combining the v Maicovicon™, an imaging digital signal processor, and the lens into a three-dimensional circuit board using Molded Interconnect Device technology. The chip can produce clear still and video images with its anti-camera shake function. The 3-megapixel sensors will begin shipping in March 2005.
Note: v is a Greek letter, pronounced "nu."