Cameras
Panasonic Intros 4 Point-and-Shoots
Panasonic introduced four new compact cameras today, the Lumix dmc-lx3, fx150, fx37, fz28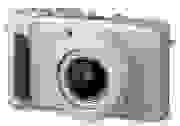 July 21, 2008 - Panasonic announced a varied slate of upscale compact cameras today, including a new 18x ultra-zoom, a 14.7-megapixel pocket shooter and the successor to the widely praised LX2 high-performance model.
While each has its own distinctive features, they also share important core specs. The company continues its relationship with Leica, offering different Leica lenses on all four new cameras. Additional across-the board features include optical image stabilization and face detection supporting up to 15 individuals. The new line also incorporates a processor step-up to the Venus IV engine, promising snappier performance and improved noise reduction.
Panasonic's trademark Intelligent Auto (iA) system is also a standard feature. IA analyzes the frame as you compose a picture and implements preset scene modes based on what it's seen. This lets point-and-shooters effectively use scene mode settings without going to the trouble of picking one out. The new cameras add AF (auto focus) Tracking to the iA system, automatically maintaining focus on a moving subject.
DMC-LX3
The top-of-the-line addition is the DMC-LX3, successor to the high-performance DMC-LX2 introduced in 2006. The focus here is on enhanced image quality and manual control. Toward this end, Panasonic developed a new CCD sensor with an unremarkable 10.1-megapixel resolution spec, but with larger individual pixels than on other sensors in the line. The company says this results in 40 percent higher light sensitivity and a 35 percent improvement in color saturation, with increased dynamic range. Standard ISO settings run to 3200, while high sensitivity mode reaches 6400. The sensor supports three aspect ratios, 4:3, 3:2 and 16:9, even shooting the same image simultaneously in all three formats for use in prints and on wide-screen TVs.
The 24mm wide-angle lens starts at an exceptionally fast f2.0, expanding low-light and high-shutter-speed shooting opportunities. Zoom range is 2.5x (24-60mm equivalent in a 35mm camera). Like the LX2, the LX3 offers joystick control for fast focus, aperture and shutter speed adjustment. Advanced users can create customized shooting settings and access them instantly via the mode dial. Another feature that distinguishes the LX3 from standard point-and-shoot cameras: a hot shoe to support external flash, new to the LX series. In keeping with the serious-photography bent of the camera, available accessories include a wide-angle conversion kit that provides the coverage of an 18mm lens, an external optical viewfinder and neutral density and polarizing filters. The LX3 measures 4.28 x 2.34 x 1.06 inches (108.7 x 59.5 x 27.1 mm) and weighs 9.35 oz (265 g), with a large 3-inch (7.62 cm) LCD display at an impressive 460,000-dot resolution. Available in silver and black, the LX3 goes on sale in August for $499.95.
DMC-FX150
For those who lust after massive megapixel counts in a compact camera, the FX150 delivers 14.7-megapixel resolution in a trim 3.80 x 2.13 x 0.98 inch, 6.2 oz. (96.7 x 54 x 24.8mm, 176 g) package. The 3.6x zoom lens starts at 28mm, at f2.8. Multiple exposure mode (a feature also found on the LX3) allows up to three superimposed images, with the previous image shown on-screen for composition purposes. RAW shooting is supported, along with high-definition video recording at 1280 x 720 at 24 frames per second. In-camera red-eye correction and image leveling to straighten out sloping shots are provided. The pocket-size FX150 is slated to ship in August for $399.95.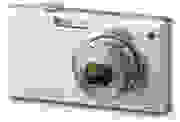 DMC-FX37
The DMC-FX37 comes in a variety of frivolous colors (blue, pink, brown, white, silver and black), but it doesn?t skimp on useful photo features, with 10.1-megapixel resolution, a 5x optical zoom and extensive scene mode options and white balance controls. The LCD monitor measures 2.5 inches (6.35 cm), the camera itself 3.73 x 2.04 x 0.87 inches (94.7 x 51.9 x 22 mm) and 5.15 oz. (146g). Manual controls are limited -- no spot metering, for example, manual focus or exposure controls (beyond exposure compensation), but consumer-friendly features include optical image stabilization, burst shooting at 2.5 frames per second and in-camera image resizing and trimming, plus the ability to grab a still frame from a video recording. The DMC-FX37 goes on sale in September for $349.99.
**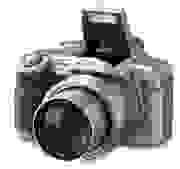 DMC-FZ28

**The ultra-zoom entry in the group, the DMC-FZ28 boasts 18x optical zoom ranging from 27-486mm (35mm equivalent). The 10.1-megapixel camera measures 4.63 x 2.96 x 3.5 inches (117.6 x 75.3 x 88.9 mm) and weighs 14.7 oz. (417 grams). The FZ28 offers both a 2.7-inch LCD and an electronic viewfinder. The camera can shoot 2.5 frames per second at full resolution and up to 13 shots in lower-res high-speed burst mode, with full automatic and manual controls. Light sensitivity can be pushed to ISO 6400 in very low-light situations, though this will impact image size and quality (standard ISOs range from 100-1600). In-camera image leveling and red-eye correction are supported, along with RAW shooting and three different photo aspect ratios (4:3, 3:2 and 16:9. Available in silver and black, the FZ28 ships in August for $399.95.