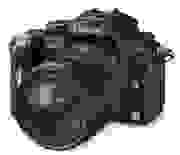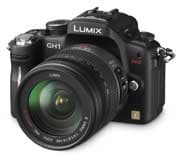 March 3, 2009 - Panasonic added a much-requested feature to its Micro Four Thirds camera system with the announcement of the 12.1-megapixel LUMIX DMC-GH1, providing full 1080p video recording, where the original Lumix G1 provided no video recording at all. The GH1 also comes with a new kit lens, a 14-140mm zoom (28-280mm equivalent) with f/4.0-5.8 aperture and optical image stabilization, designed with low-noise characteristics to allow optical zoom during movie recording.
Like its predecessor, the LUMIX GH1 is a compact interchangeable lens camera with no SLR-style mirror assembly, relying on Live View and electronic viewfinder for composing photos, and contrast detect focusing off the image sensor rather than a separate focusing sensor. The camera body features a 3-inch swivel-mounted LCD with 460,000-dot resolution, and a sensor that automatically switches the view from the LCD to the viewfinder when the camera is held to your eye. A vibrating filter system over the sensor is used to remove automatically remove dust particles. The camera supports both auto and manual exposure modes (aperture-priority, shutter-priority and full manual), with a maximum ISO of 3200 and maximum shutter speed at 1/4000 second. The GH1 body is a compact 4.88 x 3.29 x 1.78 inches (124 x 89.6 x 45.2 mm) and weighs approximately 13.58 oz. (385g).
The movie mode has several unusual features. In addition to the silent optical zooming mentioned above, the system is equipped with continuous autofocus, a feature lacking in current SLR movie modes. Another creative advantage is the ability to manually set shutter speed and aperture for video recording, providing control over depth of field and enabling stylistic video effects.
Video can be recorded in two high-def formats: 1920 x 1080 at 24 frames per second, or 1280 x 720 at 60 frames per second. Both modes record in AVCHD format (MPEG4/H.264), which doubles recording time compared to Motion JPEG-format recordings, according to Panasonic. Audio is recorded in Dolby Digital Stereo, with a wind cut function to prevent audible background noise. And direct HDMI output to a high-definition TV  is available via an optional mini HDMI cable.
In addition to the new 14-140mm kit lens, a wide-angle 7-14mm (14-28mm equivalent) was also added to the lineup, with an f/4.0 maximum aperture across the zoom range.