Cameras
Panasonic Intros Tough TS2, Compact but Zoomy ZS5 and ZS7 and High Def ZR3
Panasonic has just announced the water and drop-proof RS2, the HD video recording ZR3 and the ZS5 & ZS7
26th Jan 2010 - Panasonic has just announced 4 new cameras, including the water and drop-proof TS2, the HD video recording ZR3 and the ZS5 & ZS7, which they claim are the smallest 'superzoom' cameras on the market.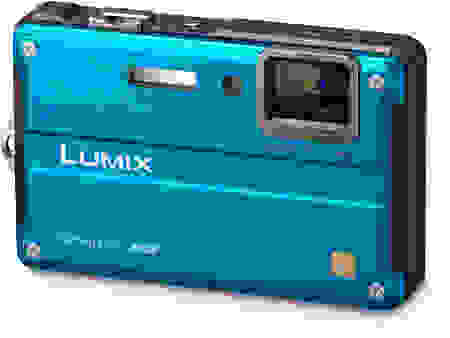 The Panasonic DMC-TS2 in blue
First up is the Lumix DMC-TS2, a rugged camera that the company claims is waterproof to 33 feet, can keep shooting down to 14 degrees Fahrenheit and is built to withstand drops and shocks. It shoots 14.1 megapixel images and high definition video to the new SDXC card format, which offers capacities of up to 2TB. 64GB and 48GB SDXC cards are due in February. It is backwards compatible with SDHC and SD cards as well. The lens is a 4.6x optical zoom model, with a focal length equivalent of 28mm to 128mm. The specifications for robustness are roughly the same as other comparable models: the Olympus Stylus Tough 8000 and Canon D10 are water and cold-proof to similar levels.  No pricing or availability has been announced, but the TS2 will replace the TS1 in Panasonic's lineup and will be available in blue, gold or silver.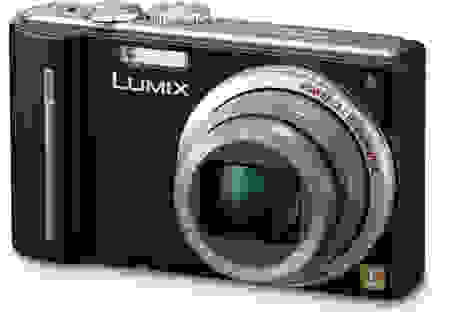 The Panasonic DMC-ZS5
The Lumix DMC-ZS5 and ZS7 are, the company claims, the smallest hybrid superzoom (10x or larger) cameras currently available, with both packing a 12x optical zoom lens into a case just 1.28 inches thick. Both models also include a GPS receiver that can tag photos and videos by location. Many photo management programs and sites (such as Flickr) support these tags for connecting a photo to the location it was captured on a map, so you can produce a travelog of a trip. A database of locations is also stored in the camera, so you can link photos to a location such as the eiffel tower. Both cameras shoot 12.1 megapixel images and have an extremely wide 25mm focal length, which means it can get in more of a wide landscape or family group shot. Both models have a claimed battery life of 340 shots, but the main difference between the two models is that the ZS7 offers more manual controls and can capture high definition video. Pricing and availability of the new models has not yet been announced.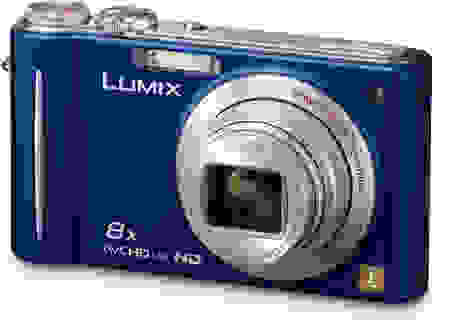 The Panasonic DMC-ZR3
The Lumix DMC-ZR3 is a compact point & shoot that includes an 8x zoom, and Panasonic also claims that the new camera is quick to start up, taking 1.1 seconds to start up from the power being off, and focusing in 0.26 seconds. If these claims are true, it would make the camera a good pick for candid shots. The camera also offers the slightly frightening sounding Happy Mode, which the company claims boosts color, saturation and brightness to produce a more vivid image. Emo users may be disappointed to see that there is no Unhappy Mode. Again, no pricing or availability details have been announced.