Cameras
Panasonic Intros Wide 8X Zoom ZR1, 18x FZ35, Pocket-Friendly FP8
Panasonic Intros Wide 8X Zoom ZR1, 18x FZ35, Pocket-Friendly FP8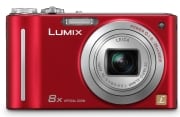 July 27, 2009 – Panasonic introduced its compact Lumix camera lineup for the second half of the year today, consisting of the wide-angle 8x-zoom ZR1 (right), the FZ35, an 18x ultrazoom and the 0.8-inch-thick DP8.
All three cameras share several features, including 12.1-megapixel resolution, the ability to shoot video in 720p format, and an enhanced optical image stabilization system the company has dubbed Power O.I.S., which is designed to minimize significant camera shake more effectively. The autofocus system speed has also been improved, thanks to the use of faster processors and focusing algorithms.
The standard ISO range for the new models is 100-1600, with extended settings up to 6400. Full-resolution burst mode clocks in at 2.3 frames per second, though reduced resolution options at up to 10 frames per second are available. Also common to all three new cameras: a run-of-the-mill 2.7-inch LCD with 230,000-dot resolution, and a September ship date.
The Lumix DMC-ZR1 is a compact 8x zoom model starting at a 25mm equivalent wide angle (f/3.3-f/5.9). The camera measures 3.85 x 2.14 x 1.02 inches (97.8 x 54.6 x 26.0 mm), a slim depth for an 8x zoom, made possible by what Panasonic says is the world's first  0.3mm thin aspherical lens.
While all three new models record at 1280x720p resolution, the ZR1 stores video in Motion JPEG format rather than the more compact AVCHD used in the FZ35. Another negative for video aficionados is the lack of HDMI output to high-def televisions – only component out is provided, and that requires an optional cable. On the plus side, the 25-200mm lens can be zoomed during video recording, a rarity.
The ZR1 will be available in black, red, blue and silver, priced at $279.95.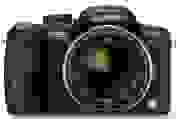 The new addition to Panasonic's ultra-zoom line is the Lumix DMC-FZ35, with an 18x Leica lens (27-486mm equivalent), starting at f/2.8. The FZ35 is designed to appeal to both still and video enthusiasts, with its 720p video in AVCHD Lite format (thanks in part to the more powerful Venus engine HD processor used here), zooming capability while shooting and a dedicated video record button. Aperture and shutter speed for video shooting can be set manually, providing an unusual level of control over depth of field and motion capture. Image quality settings used in still shooting, including color, brightness and saturation, can also be appied to video recording. HDMI output is provided, and Dolby Stereo sound supported.
The FZ35 is a mid-size ultrazoom, measuring 4.63 x 2.98 x 3.50 inches (117.6 x 75.8 x 88.9 mm) and weighing in at 14.6 oz. (414g). Unlike some cameras in this class, it is powered by a rechargeable Lithium ion battery, rated for 470 shots per charge.
The FZ35 will ship in basic black for $399.95.
Finally, the Lumix DMC-FP8 combines a 4.6x zoom with a pocket-size body measuring 3.77 x 2.35 x 0.80 inches (95.7 x 59.6 x 20.2 mm), using folded optics so the lens doesn't protrude at all from the camera body. It features illuminated buttons on the back, a useful touch for nighttime shooting, The lens is equivalent to a 28-128mm in 35mm photography, with an f/3.3-5.9 maximum aperture range.
Like the ZR1, the FP8 shoots 720p video in Motion JPEG format, and requires an optional component cable to connect to a high-def television. Available in red, black and silver, the FP8 is priced at $299.95.