January 23, 2006 – Almost a year after the FZ5, Panasonic announced the new 6 megapixel Lumix DMC-FZ7. The new digital camera has many of the same features of its predecessor such as the 12x zoom lens, MEGA optical image stabilization system, and manual functionality. Still, the FZ7 adds some lucrative features like a high sensitivity mode for low light, more scene modes, and a larger LCD. The new camera will also be more versatile than its predecessor; it will sport compatibility with wide angle and telephoto conversion lenses. The Panasonic Lumix DMC-FZ7 will debut in stores this March for $399.
The camera body of the new FZ7 looks very similar to the older FZ5. From the front, the only difference is a slightly rounded right edge on the new model. From the back, the most notable difference is the LCD size. The Panasonic FZ5 has a 1.8-inch monitor and the FZ7 has a much larger 2.5-inch screen. The two cameras have the same Leica 12x optical zoom lens that is equivalent to a 36-432mm focal length range on a 35mm camera and has maximum apertures of f/2.8-f/3.3. Both incorporate Panasonic's image stabilization technology as well.
The most marketed difference between the cameras is the new high sensitivity mode on the Panasonic Lumix DMC-FZ7. This mode combines the image stabilization system with an ISO 1600 setting to grant users more flexibility in low light conditions. Panasonic claims this as its "most 'anti-blur' camera ever," according to today's press release.
"Panasonic's optical image stabilizer technology used with this new high sensitivity mode dramatically helps consumers at all skill levels capture great shots," said Monica Helmer,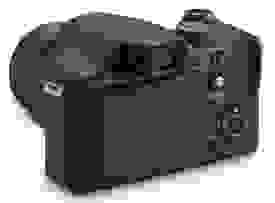 marketing manager for Panasonic's Optical Group, in today's press release. "Everything about the DMC-FZ7 is designed to allow anyone to get high-quality results, whether composing a macro shot or catching the action on the fly."
The Panasonic FZ7 has the same image processor as its predecessor, but it somehow increased the burst rate to 3 fps at full resolution. The camera also has minimal shutter lag. While the older FZ5 had 9 scene modes, the new Lumix DMC-FZ7 offers 16. The old model had an ISO range of 80-400 and the new camera tops out at ISO 1600. The FZ5 could only produce movies with 320 x 240 pixels, but the FZ7 greatly improves upon this with a full 640 x 480 pixel mode and a widescreen 848 x 480 pixel mode. The Panasonic FZ7 also comes with a new battery that purportedly supplies a longer lifetime than the one included with its predecessor.