Cameras
Panasonic Swings for the Fences with Nine Diverse New Lumix Models
Panasonic's throwing nine new Lumixes at the wall at CES, and we're here to make sense of it all.
CES 2013 is only just getting underway here in Las Vegas, but Panasonic has already announced updates to nearly their entire line of consumer-oriented Lumix compact camera models. The seven new cameras are as diverse as can be, ranging from a do-it-all high-performer in the ZS30 to a seriously rugged toughcam in the TS5 and a svelte, fashion-conscious design in the new XS1. Though none of these are exactly groundbreaking devices, each looks to be finely attuned to a specific segment of the market.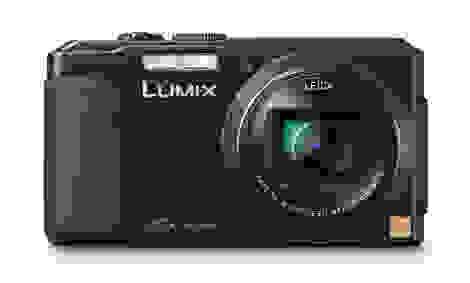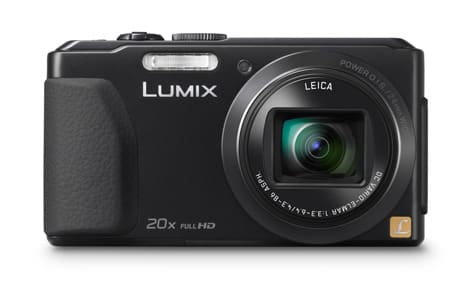 The most powerful camera in the 2013 crop, the ZS30 pairs an 18.1-megapixel "high-sensitivity MOS" sensor with a 20x optical zoom. The grab bag of other features includes 50p full-HD video capability with onboard stereo sound, integrated WiFi and NFC technology, and automatic cloud backup. Users can also connect the ZS30 to their smartphone or tablet and use their screen as a remote viewfinder, complete with control of the zoom and shutter. Five-axis image stabilization is another great impovement, helping ensure blur-free shots in nearly any lighting situation.
For specs on the ZS30 click here
Alongside the ZS30, Panasonic is also launching the "ZS25": https://www.reviewed.com/cameras/specs/Panasonic/Lumix-ZS30/22503.htm. This slightly scaled down version uses a 16.1-megapixel sensor and lacks WiFi connectivity, but is otherwise identical to its big brother.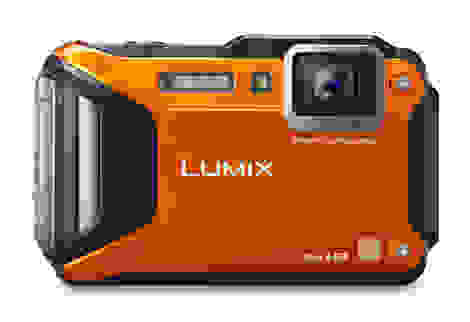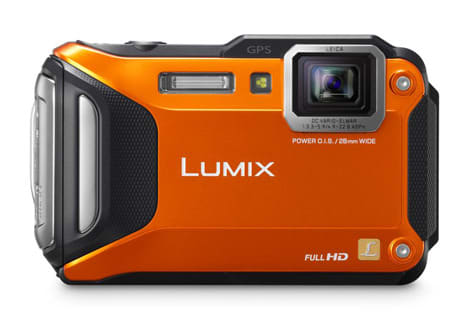 Panasonic's toughcams have long been some of the best on the market, despite some recent complaints about less-than-reliable water sealing, and the new TS5 may be their toughest yet. The new pint-sized titan can go down to 39 feet underwater, be dropped from up to 6.5 feet, endure cold as low as 14 degrees Fahrenheit (-10C), and withstand up to 220 pounds of pressure.
With a 16.1-megapixel sensor and full-HD video output, a 24mm wide-angle lens, and optical image stabilization, it should record a decent image, too. As with the ZS30, WiFi and NFC are onboard for easy sharing of photos and video. And as with the ZS30, the TS5 also has a little sibling: the TS25. The lower-end model scales down the TS5's achievements to a water depth of 23 feet and drop height of 4.9 feet, and also axes WiFi and full-HD video (the latter in favor of 720p).
For specs on the TS5, click here.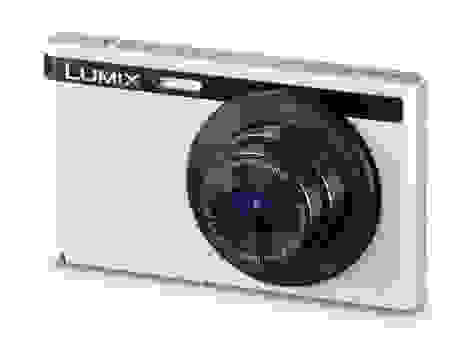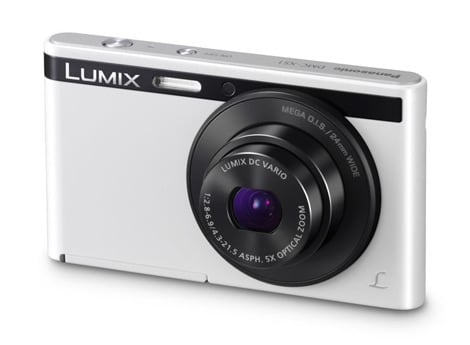 The new Lumix XS1 is Panasonic's attempt to make a camera whose wrapper justifies its existence. Though we're convinced low-end compacts are going the way of the dodo courtesy of smartphone photography, camera manufacturers seem to disagree, and cameras that focus on aesthetics and pocketability over raw performance continue to hit the market.
The XS1 packs a 16.1-megapixel sensor and stabilized 5x optical zoom with a 24mm wide angle into a body that really is quite handsome and slender (just 14mm thick), but it's clearly still just an entry-level point-and-shoot, at least judging by the spec sheet. There's 720p video recording, a whole mess of art filters, and various special scene modes. There's a 2.7-inch screen. And that's about it. More specs.
It seems to be a trend with Panasonic this year to have a mini-family of cameras in each product line, and this one is no different—the XS1 is accompanied by the FH10 and F5. The former offers identical performance to the XS1 but lacks Creative Control filters and is slightly larger, while the latter uses a lower-res 14.1-megapixel sensor to cut the price even further.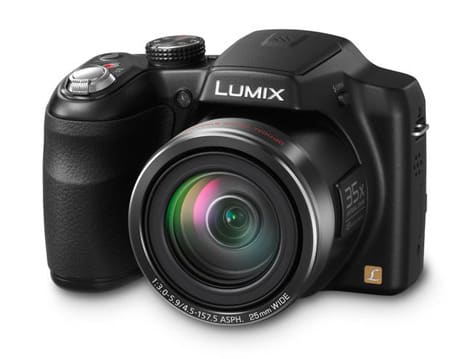 Bridge cameras are a genre that's still thriving, and Panasonic has always been a contender in this space. The LZ30 (specs) is their latest model, putting together a 16.1-megapixel sensor, 25mm wide-angle 35x optical zoom lens, and limited manual controls for more advanced shooters.
Finally, the Lumix SZ3 (specs) is a pretty conservative entry-level compact with a 16.1-megapixel sensor (up from its predecessor's 14.1), 10x Leica-branded zoom, and 2.7-inch rear LCD. A host of creative modes, 720p HD video capability, and a small form-factor are other attractions.
All of these models are said to be available in-store and online at the end of March, though pricing is as-yet unknown. Stay tuned for first impressions reviews and further info on MSRPs.
---
**Panasonic unveils 2013 LUMIX compact line-up at CES*
Las Vegas, NV (January 7, 2013) - Panasonic has today unveiled its 2013 line-up of LUMIX compact cameras, showcasing the optimum combination of picture quality, intelligent functionality, and stunning design to allow photographers of all levels to capture the perfect moment. The line-up also features new connectivity options, including in-built Wi-Fi and NFC technologies, to provide the widest range of remote shooting options, remote viewing and instant sharing on social networks.
The newly announced models include the LUMIX ZS30, Panasonic's most advanced photo and video hybrid compact camera to date; the ultimate tough still and video shooting camera, the LUMIX TS5; the new high-power zoom bridge camera, the LUMIX LZ30; the new slim and stylish LUMIX XS1; and the LUMIX SZ3, which packs a large zoom in a sleek design.
The LUMIX ZS30: The perfect camera for every situation
The latest in its acclaimed ZS series, the LUMIX ZS30 is Panasonic's most advanced photo and video hybrid compact camera to date. Boasting exceptional image quality with an improved 18.1 megapixel high sensitivity MOS Sensor, 20x Optical Zoom, 50p Full HD video recording capabilities and a host of creative features, the ZS30 is ideal for those looking for a camera that ticks all the boxes, without compromise.
With the addition of integrated Wi-Fi and NFC capabilities, the ZS30 offers the widest shooting, sharing and viewing options. You can frame and shoot an image remotely with your smartphone or tablet, share images instantly with your favourite social network, and browse your images and videos via your TV or smartphone.
For users that don't require the connectivity options of the LUMIX ZS30, the new LUMIX ZS25 also offers similar features and functions, and a 16.1 megapixel, high sensitivity MOS Sensor.
The LUMIX TS5: The ultimate tough still & video camera for the adventurous photographer
The new LUMIX TS5 is the ultimate hardy camera, ensuring you can rely on your camera for perfect shots and video wherever you are, even when underwater swimming with sea life or hanging from a rock face. Waterproof to a depth of 39 feet, shockproof from a height of 6.5 feet, freeze proof down to a temperature of 14 degrees Fahrenheit and pressure resistant to 220 lbs, the LUMIX TS5 is the tough man of the compact camera market
With a 16.1 megapixel high sensitivity sensor, Full HD 1920x1080 movie recording, Wi-Fi connectivity and NFC capabilities, the TS5 doesn't compromise on picture quality or functionality to ensure adventurous photographers can capture their exploits with absolute clarity and creativity.
Alongside the TS5, the new FT25 is a stylish tough camera for everyday usage. The TS25 is waterproof to a depth of 23 feet, shockproof from a height of 4.9 feet and freeze proof down to a temperature of 14 degrees Fahrenheit. it's perfect for those less extreme adventurers.
The LUMIX LZ30 – Unwire your creativity putting creative high-power zoom photography in the palm of your hands
Panasonic's newest bridge camera, the LUMIX LZ30, allows more freedom in your photography with a powerful 35x Optical Zoom lens and a host of creative options and modes. The high-power zoom allows you to bring distant subjects up close in 16.1-megapixel full-resolution, while the camera's 25mm ultra wide-angle lens provides around twice the shooting area of a standard 35mm lens.
The LZ30 also provides you with additional creative options and modes, allowing you to truly express yourself through your photography. You can set the aperture to control the depth of field, adjust the shutter speed to freeze moving subjects and create motion blur to exaggerate movement. The Panorama Shot Mode allows you to take beautiful panoramic shots with ease, while the Creative Control and Creative Retouch modes allow you to take total control of your shots.
The LUMIX XS1: the slim and stylish model to step up your everyday photography
Panasonic has also announced the first in a new range of slim and stylish compact cameras – the LUMIX XS1. With a 16.1 megapixel sensor, and a beautiful and ultra-slim design at just 14mm thick, the XS1 is ideal for the smartphone user who is looking to step up the quality of their everyday photography.
Aspiring photographers can also take advantage of the XS1's wide range of creative and artistic features and functions, including Creative Control which allows you to choose from a selection of 13 different filters before you take your photo. Options such as 'Retro', 'Pop' and 'Miniature' provide a new level of creativity and control to your photography, spicing up even the simplest of snaps.
Two similarly stylish LUMIX compact cameras are also newly available from Panasonic in the shape of the LUMIX FH10 and LUMIX F5. The FH10 provides identical performance to the XS1 (without Creative Control filters) in a slightly larger camera. The new, entry-level LUMIX F5 retains the stunning design of the XS1 and FH10 and includes a 14.1 megapixel sensor.
The LUMIX DMC-SZ3: Slim and ready shoot
Finally, Panasonic's new compact LUMIX SZ3 is packed with features to cater for every kind of photography, whether you're looking to capture family and friends, holiday scenery or a night out in the city. With a 16.1 megapixel sensor, 10x Optical Zoom LEICA lens, Wi-Fi and 12 creative effects, all packed into a sleek slim design, the SZ3 is every photographer's friend.
About Panasonic Consumer Marketing Company of North America
Based in Secaucus, N.J., Panasonic Consumer Marketing Company of North America, a Division of Panasonic Corporation of North America, the principal North American Subsidiary of Panasonic Corporation (NYSE: PC) and the hub of Panasonic's U.S. marketing, sales, service and R&D operations, offers a wide-range of consumer solutions in the U.S. and Canada. The Company's portfolio of innovative consumer products ranges from VIERA Full HD 3D Televisions, Blu-ray players, LUMIX Digital Cameras, Camcorders, Home Audio, Cordless Phones, Home Appliances, Wellness and Personal Care products and more.
Panasonic is pledged to practice prudent, sustainable use of the earth's natural resources and protect our environment through the company's Eco Ideas programs. In the 2012 Interbrand Annual Best Global Green Brands ranking, the Panasonic brand jumped four spots to number six: http://www.interbrand.com/en/best-global-brands/Best-Global-Green-Brands/2012-Report.aspx. Follow Panasonic on Twitter @panasonicdirect, and additional company information for media is available at www.panasonic.com/pressroom.*