February 24, 2010 - Pentax today unveiled new entries in two of its core product categories with the ultrazoom Optio X90 and waterproof Optio W90, both due in April.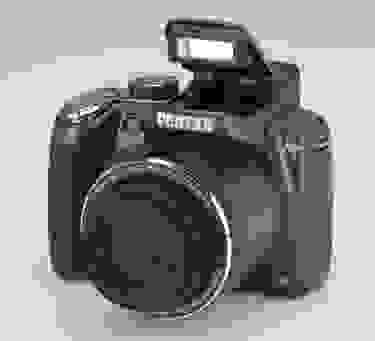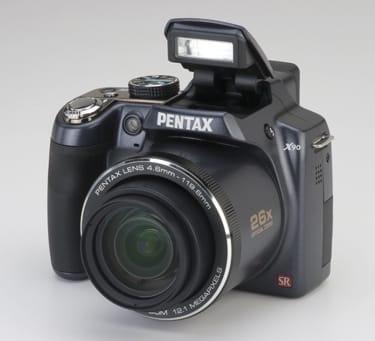 Pentax X90
The 12.1-megapixel X90 features a 26x zoom lens, equivalent to a 26-676mm lens in 35mm photography, with a macro mode that focuses down to 1 inch. The maximum aperture is f/2.8 at the widest setting and 5f/5.0 at full telephoto.
The X90, priced at $399.95, includes both a 2.7-inch LCD with 230,000-dot resolution and an electronic viewfinder for stable eye-level shooting. Sensor-shift image stabilization is employed to maximize the ultrazoom's handheld long-zoom potential. Both auto and manual shooting modes (aperture-priority, shutter-priority, full manual exposure control) are available. When speed is of the essence, the standard 1.12 frame per second burst mode is supplemented with reduced-resolution 5-megapixel shooting at up to 11 shots per second is possible. Reduced resolution extended ISO settings are also provided. While the standard ISO range tops out at 1600, 3200 and 6400 settings are available at 5M resolution.
Both the X90 and the W90 offer 720p video recording at 30 frames per second, with HDMI output for direct connection to a high-def TV.


Pentax W90 with included carabiner
While most waterproof cameras are built to take on either 10-foot or 33-foot depths, the W90 promises to take on 20 feet of water without springing a leak. It is also shockproof to 4 feet and will survive sub-freezing temperatures.
The 12.1-megapixel camera features a 5x lens, equivalent to 28-140mm, and a 2.7-inch widescreen LCD. While the W90 doesn't offer mechanical image stabilization, it is equipped with the Pentax Pixel Track Shake Reduction system which promises to digitally minimize the effects of camera shake.
There are other features which distinguish the W90 from the waterproof competition. It includes a "digital microscope" capability, with macro focusing to less than an inch and three tiny built-in LCD lights on the lens barrel providing illumination. The Subscreen Input Function sounds highly technical, but it's actually both simple and clever: you can choose a photo to be displayed in an inset window on screen while shooting, allowing you to compare the scene at hand with a previous shot. And unlike most cameras in this category, the W90 is compatible with several accessory wireless remote controls, including a wireless model that sells for $29.95. The camera itself is priced at $329.95.