*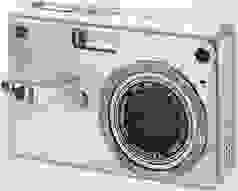 May 10, 2005 *— Pentax announced three new Optio digital cameras today: the S5z, the S55, and the S45. All three point-and-shoot cameras will ship in June for under $350. The S5z and S55 both sport 5 megapixels, while the S45 packs in 4 on its 1/2.5-inch CCD. The cameras all have the same smc Pentax 3x optical zoom lens and very similar 2.5-inch LCD screens.
"This S series of Optio digital cameras that are as small as an Altoids tin continues to be one of our most popular digital cameras," said Ned Bunnell, director of marketing for Pentax.
The 5-megapixel Pentax Optio S5z is a slim-line digital camera with 3.3 x 2.2 x 0.8-inch dimensions in an aluminum body. The S5z is meant to slide easily into a pocket with its flat surfaces and lack of protrusions. This model has a host of automatic and preset modes, as well as a 640 x 480-pixel movie mode that shoots 30 frames per second and records sound simultaneously. Pentax abandoned the optical viewfinder and went for a large 2.5-inch LCD screen instead. The screen has 110,000 pixels of resolution. The 3.7-ounce digital camera includes 9.3 MB of internal memory and will retail for under $350.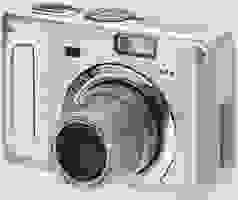 Pentax' Optio S55 has similar features — 5 megapixels, a 3x optical zoom lens, and a 2.5-inch LCD screen — but with a few less automatic modes and a few minor changes. The 2.5-inch LCD screen has a bit more resolution at 115,000 pixels and the internal memory is boosted to 11 MB. However, the camera's measurements are a tad thicker at 3.5 x 2.3 x 1.1 inches and heavier at 4.8 ounces without the battery and optional SD card. The movie mode only shoots at 320 x 240 pixels, but at a selectable 30 or 15 frames per second. The Pentax Optio S55 has a Help mode, which will provide explanations of scene modes and such. The model will retail for under $300.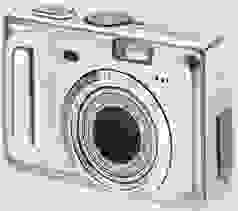 The Optio S45 is an exact replica of the S55, but with less megapixels. The two cameras have the same camera bodies, 2.5-inch LCD screens, internal memory, 3x optical zoom lenses, flashes, and even exposure and movie modes. The 4-megapixel Pentax S45 will retail for under $230.