Cameras
Pentax Announces K-50, K-500, Q7, New Lenses
Custom body colors make their way to Pentax's DSLR lineup.
Credit:
Pentax announced not one but three new cameras yesterday at a press event in New York City.
Highlighting the event was the introduction of the new K-50, a weather-sealed model that replaces the aging K-30. The K-50 can shoot at up to 6 frames per second, with sensitivity up to ISO 51200. Four optional interchangeable focusing screens are available, and shutter speed maxes out at an impressive 1/6000th of a second. Using an optional adapter, it's also possible to power the K-50 using AA batteries.
Taking a cue from the Q lineup, the K-50 will be available in no less than 120 different color combinations, which may be custom ordered on Pentax's website. This launch will also coincide with two brand new weather-resistant lenses, a DA-L 18-55mm f/3.5-5.6 WR, and a DA-L 50-200mm f/4-5.6 WR.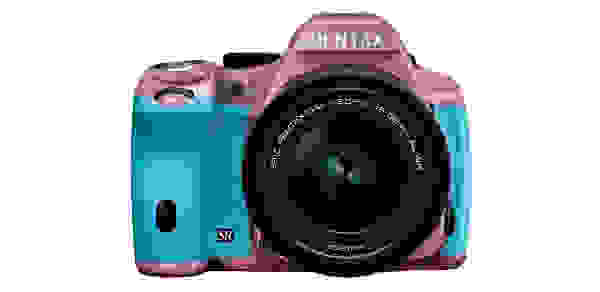 The K-50 will hit stores in July for $699.95 body-only, $779.95 with the new 18-55mm WR, or $879.95 with both the 18-55mm WR and the 50-200mm WR.
Pentax also introduced an even more affordable SLR, the K-500, which offers many of the same features as the K-50, minus the weather sealing and color options. This camera appears to use the same 16.28 megapixel sensor, with a maximum sensitivity of ISO 51200, and 6 fps continuous shooting. Both models also feature in-body Shake Reduction, an 11-point autofocus system, and 1080p video recording.


While both models feature a 100% coverage optical viewfinder, the K-500 lacks a focus point indicator overlay, just like the K-x did. So while the focus systems are identical, precisely where you're focusing won't be as clear with the K-500. The camera is powered by AA batteries by default, but it's also compatible with an optional lithium battery pack (sold separately).
The K-500 will also be available in July, and kits will be identical to the K-50, but without weather resistant lenses. The 18-55mm kit will be priced at $699.95, and a kit with both the 18-55mm and the 50-200mm will be $699.95. A body-only option has not been announced.
Pentax has also drastically upgraded the tiniest mirrorless system camera line in existence by debuting the new Q7. Weighing just 7 ounces, the Q7 will also be available in 120 color combinations. But you already knew that.
Much more importantly, the sensor has finally been upgraded to a 1/1.7-inch BSI CMOS (from a 1/2.3-inch), capable of ISO 12800. All the old lenses still work, the image circle is still compatible. It's almost as if Pentax had been planning this all along.... Scandalous.

Pentax is claiming a 10% improvement to overall operating speed for the Q7, thanks to an upgraded Q Engine. The Q7 also features an improved Shake Reduction system, 1080/30p video recording, a 3.0-inch LCD display, and enhanced control options including AF/MF switching and a wide selection of filters and effects.
The Q7 is available immediately for $499.95.
Alongside this announcement, Pentax also introduced a new "Mount Shield" lens. This fixed-aperture, fixed-focal-length accessory was clearly inspired by Olympus' similar offering last year. The Mount Shield lens costs only $79.95.