Cameras
Pentax Launches Consumer DSLR K10D
Pentax Launches Consumer DSLR K10D, anti-dust, dust-resistant, weather-proof, PRIME, Toyota, Pentax 15-55mm lens, Pentax DA 15-15mm lens,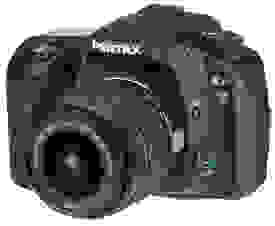 September 13, 2006 – Today, Pentax Imaging Co. launched the K10D, a new 10.2-megapixel entry-level DSLR with shake reduction technology. Competing with other sub-$1000 consumer DSLRs, this Pentax model is weather/dust resistant and is compatible with an optional battery grip. At $999.95 for the kit and $899.95 for the body alone, the Pentax K10D will be available this November.
The Pentax K10D enters a dense market; in terms of price, the K10D will be pitted against Canon's Digital Rebel XTi, Nikon's D80, and Sony's first DSLR, the A100, all which have been released within the last four months.
The 10.2 megapixel K10D contains a 2.5-inch, 210,000 pixel LCD that can be viewed vertically and horizontally at 140 degrees. The camera has 11 AF sensor points, a 100-1600 ISO range, and a 30-1/4000 of a second shutter speed range. The K10D's Pentax Real Image Engine (PRIME) has a new 22 bit A/D converter for quick image data processing of JPEG and RAW files.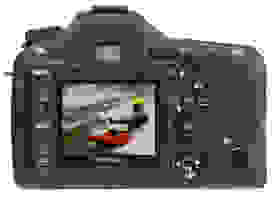 A chief component to the K10D is its shake reduction system, similar in design to Sony's in-camera Super SteadyShot technology on the A100. The Pentax Shake Reduction (SR) system is also built into the camera body. The shake reduction system is constructed around a shifting CCD, rather than a moving lens element to compensate for shake. Pentax estimates the compensation will provide an additional 2.5 to 4 shutter speed stops, according to today's Pentax press release.
Following the anti-dust systems offered by Olympus, Sony, and more recently Canon, Pentax is also introducing a Dust Removal (DR) system on the K10D. The Pentax K10D has a CCD shift mechanism to shake off dust from the image sensor.
Unlike other consumer DSLRs, the Pentax K10D is weather resistant, according to the Pentax comparison release. The Pentax Special Protect (SP) coating is applied to 72 seals on the camera body, protecting it against weather and dust, thus allowing users to take the camera out even in rainy situations.
Blending DSLR features with entry-level consumer functions, the K10D has six built-it digital filters: black-and-white, sepia, soft, brightness, color, and slim, which some could only speculate is an effort to match the HP-marketed slimming effect.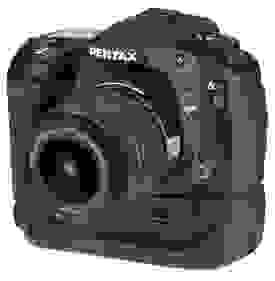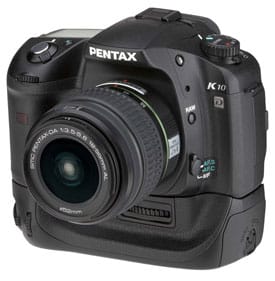 The Pentax K10D includes a series of priority modes, including a Hyper Manual mode activated by a green button located next to the shutter button. The green button automatically sets the camera back to Program AE mode, quickly taking the guesswork out of aperture and shutter speed. Other modes include combined priority functions such as Shutter & Aperture-Priority mode and Sensitivity-Priority mode.
For the package price of just under $1000, the Pentax K10D kit will include a Pentax DA 18-55mm lens. The f/3.5 lens has 12 elements in 9 groups. The camera body is compatible with Pentax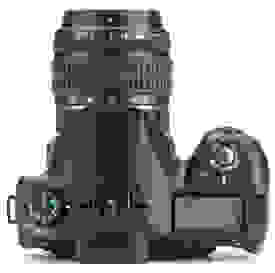 KAF2, KAF, and KA mounts and select K, S, and 67/645 lenses. Pentax also launched a new DA 70mm f/2.4 lens today.
The K10D is compatible with SD and SDHC memory cards. The camera takes Li-ion batteries which get 500 shots per charge, according to the release. For users who want added camera grip, Pentax introduced a vertical battery grip with the SP coating to resist weather and dust. The optional grip will retail for $190 when it becomes available in November, along with camera.
At the near -$1000 mark, some wonder what would lure consumers away from the brand recognition of Canon or Nikon's consumer DSLRs at the same price tag. To entice new customers, Pentax announced yesterday the Pentax Test Drive promotion in which users could win a free car just for trying out any of the Pentax K-series cameras, including the K100D and K110D. Any customer who "tests drives" a Pentax K-camera from now until December 31 is eligible to win a 2007 Toyota FJ Cruiser, worth $25,000.
"The DSLR marketplace is extremely crowded and competitive, and we want the new PENTAX DLSR line to be given the recognition it deserves," said Pentax marketing director Ned Bunnell in yesterday's press release. "We believe that given the opportunity to handle our K series cameras, consumers will be pleasantly surprised by the ergonomics and overall performance of the models and will seriously consider PENTAX in their purchase decision," said Bunnell.
If the Pentax Shake reduction and weather resistant K10D is not enough to win customers over, an SUV might.