May 22, 2006 – Pentax Imaging Company is expanding its DSLR lineup with today's announcement of the K100D and the K110D. The new digital single lens reflex cameras have model names that reflect the classic Pentax film cameras from the late fifties. Both new models offer 6.1 megapixels, manual controls, and ease of use features. The K100D is the flagship model with an extra shake reduction system feature; it will retail for $699 when it ships in July. The Pentax K110D will retail for $599 in August.
Both digital cameras will come with a Pentax smc 18-55 mm kit lens. The 'K' model name not only reflects the classic legacy of Pentax cameras, but designates these models as having reverse compatibility with Pentax K-mount lenses. In conjunction with today's DSLR announcements, Pentax also introduced a new K-mount lens. The smc Pentax DA 21mm f/3.2 AL will ship in July for $549.
The flagship Pentax K100D has plenty of manual control. The camera's Savox VIII auto focus system has 11 sensor points across the frame to keep subjects in sharp focus. The shutter can flip as fast as 1/4000th of a second and can open for any amount of time with the bulb setting. The K100D has a burst mode that can shoot 2.8 frames per second for up to 5 pictures at a time. With an ISO range extending to 3200 and a noise reduction system, this camera is optimized for low light photography. Shooting in RAW and 3 compressions of JPEG, the Pentax K100D has Natural and Bright color modes that act similarly to different types of film.
The 6.1-megapixel Pentax K100D has all of the manual control typical of a DSLR, but comes with ease of use features designed to lure consumers who are looking to move up from point-and-shoot models. There are a few digital filters, including a Slim mode that elongates the picture vertically just enough to make subjects look a few pounds lighter. There are eight scene modes and Pentax's Auto Picture Mode, which automatically selects a mode from Portrait, Landscape, and Macro.
"The ease-of-use, advanced features and attractive price make the Pentax K100D digital SLR a perfect choice for users moving up from a point-and-shoot camera," said Ned Bunnell, director of marketing for Pentax Imaging Company, in today's press release.
The Pentax K100D's distinguishing feature is its shake reduction system, which offers a two-stop shutter speed advantage and is compatible with any K-mount lens because the system is built into the image sensor system rather than the optics. The shake reduction system works by oscillating the 23.5 x 15.7 mm image sensor both vertically and horizontally using a magnetic force. The speed of the oscillation is adjusted in proportion to the amount of camera shake detected by the internal gyrosensor.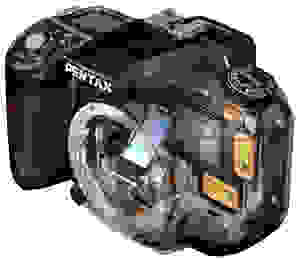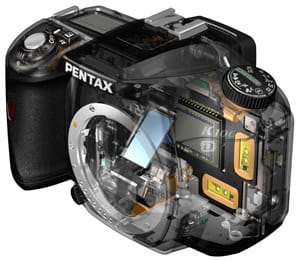 The K100D's housing is constructed of fiber-reinforced plastic and stainless steel, making its weight relatively light at 19.8 oz without the SD card and four AA batteries necessary for power. The digital camera measures 5.1 x 3.6 x 2.8 inches. The Pentax K110D has the exact measurements, weight, and looks of the flagship camera – but it comes without the shake reduction system.
The Pentax K110D has the same manual controls, scene modes, filters, options, etc. Both cameras have the same housing with penta-mirror viewfinders and 2.5-inch LCD screens. The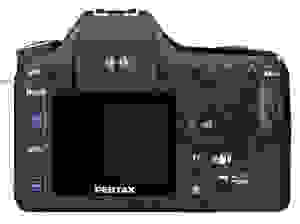 screens advertise 210,000 pixels of resolution and a 140-degree wide viewing angle. The K110D even has 6.1 megapixels and comes with the same kit lens.
The smc Pentax DA 18-55 mm kit lens is built with 12 elements in 9 groups. The maximum aperture in the widest focal length is f/3.5, with the max aperture in telephoto being f/5.6. The lens offers a standard zoom capability equivalent to 27-83 mm in 35 mm format.
If consumers need a wide angle, Pentax also announced a K-mount lens today with a 21 mm focal length. The smc Pentax DA 21 mm f/3.2 AL lens is extremely thin, only extending from a camera body about an inch. It is built with 8 elements in 5 groups and offers 0.17x magnification. The eighth element has some aspherical glass that corrects aberrations and other optics problems that would otherwise plague image quality. The press release also describes a "floating mechanism, which is designed to adjust the degree of aberration compensation in relation to the focusing distance."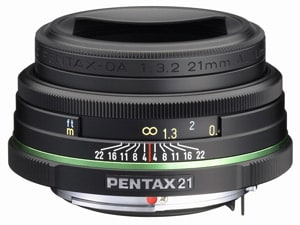 The minimum focusing distance is 0.66 ft from the lens, which provides a 68-degree angle of view from the Pentax *ist D series and K100D and K110D bodies. The lens, which is coated with fluorine compound designed to repel dust and grease, comes with a hood to keep the sun out too. An included cap fits on the 49 mm lens; filters can be attached at that diameter or the 43 mm diameter around the hood. Apertures range from f/3.2 to f/22, which is executed by seven diaphragm blades. The smc Pentax DA 21 mm f/3.2 AL lens has an angle of view equivalent to 32 mm in the more traditional 35 mm format.