Cameras
Photo App of the Week: Camera+ for iOS
Camera+ has sat at the top of the App Store's paid photo and video apps list for months on end, and it's up there for a good reason.
Camera+ is arguably the most popular photo app for the iPhone (at least aside from Instagram and the default camera app). It's been the top paid app in the Photo & Video section of App Store for months. Sprint even uses its logo in a TV spot for the iPhone 4S.
It's been a big hit, to say the least. With hundreds of photo apps to choose from (and plenty of free ones at that) Camera+ must be doing something right if so many users have actually paid for it.
What It Gets Right
Camera+ does everything that an all-in-one photo app needs to do. It snaps, it edits, it shares. No instructions necessary. Everything is wrapped up in a clean, responsive, logical interface.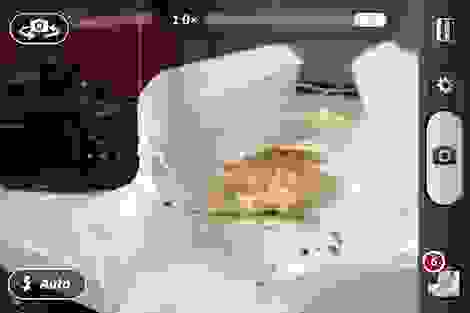 Shooting is simple, as it should be. A few general-purpose shooting aids are built-in, including touch-to-expose controls, the ability to use the volume buttons as a shutter, and a grid.
But post-processing is the app's real strength. The post-shot scene modes saved more than a handful of our pictures when we shot in iffy lighting, like dim indoor settings, backlit scenes, or straight-up night shots. The crop function has a bunch of preset ratios—common print sizes, square, the golden ratio, and so on—and the selection of filters is pretty impressive.
Sharing is simple, too, with direct tie-ins to Flickr, Facebook, and Twitter, as well as texting and email.
What It Gets Wrong
Unlike the default camera app, Camera+ doesn't support one-touch HDR photography. It has an HDR-esque filter, but it's not the same thing. In general, the built-in filters and effects just don't have the same class or refinement that Instagram's effects do, and some the better ones can only be unlocked with an in-app purchase ($0.99 for the analog film set).
Then there's the Lightbox vs. Camera Roll distinction, which isn't always clear. By default, all the photos taken with Camera+ go to the so-called Lightbox, where they await editing, sharing, uploads, and so on. Users need to go into the Lightbox and save the photos to the system-wide Camera Roll if they want to view or adjust the photos in any other program. There is an option to send the shots directly to the Camera Roll as well—it's just not set that way by default, and it took us a while to figure out why our shots were stuck in Camera+ exclusively.
Worth A Download?
Absolutely. Camera+ has been my go-to photo app for a few months now, since we started downloading a bunch of apps for the purpose of writing these short reviews. Aside from the times here and there when I specifically want an Instagram filter, I've had no reason to use any other photo app besides Camera+/
{:{PhotoGallery article.attachments}:}