Cameras
Photo App of the Week: Paper Camera for iOS and Android
Paper Camera from JFDP Labs offers a way to quickly and easily turn your world into the cartoon paradise. We go hands-on to see if this camera app is all it's crumpled up to be.
Paper Camera from JFDP Labs is another in a long line of camera enhancement applications for Android and iOS devices that applies a variety of cartoonish effects to your photos. Whether you're after halftone-dot, pastel, comic book inking, or a more gothic effect on your photos, Paper Camera's probably got an option for you.
What sets Paper Camera apart is the application's sheer breadth of options, accessed through an innovative minimalist design that is straight out of your fifth grade math notebook.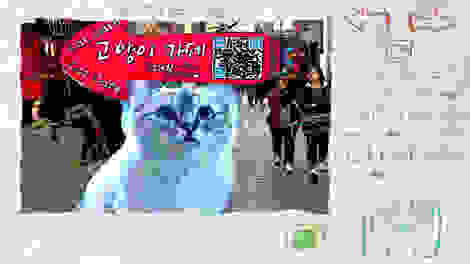 As soon as you open up the $1.99 app (currently $0.99 for iOS) you're greeted by what looks like a crumpled up piece of paper with your rear-facing camera's live view feed and a few touch-controlled sliders for contrast, brightness, and "lines." Beside these are options for taking a photo, accessing a saved photo from your camera roll, and switching between the many filters in the app.
The rendering speed on a Motorola Atrix 4G was remarkably quick, with in-app adjustments and switches between filters happening nearly instantaneously. It's so quick that you're likely to get the most enjoyment simply pointing the app at the world around you, rather than editing any one photo. The effects are dramatic, but all are rendered in real-time quite well, and the three sliders do provide a significant amount of control over the app's final output.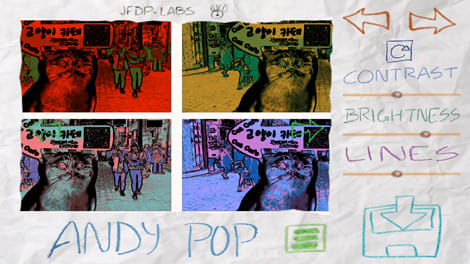 The minimalist design of the interface is a nice change from over-done applications, but the lack of any sort of instruction or tutorial does require a little bit of hunting around the app before you know what each function does.
Despite several days of investigating we couldn't quite pin down exactly what the "lines" slider accomplished; the effect was noticeable, but it was inconsistent from filter to filter, so you'll have to mess with it to see its effect on each photo. There are also a few annoying quirks, like a poor (at least on Android) method of backtracking from editing an existing photo to taking a new one. You hit your phone's back key, but accidentally pressing this twice brings you out of the app (after a short entreaty to share the app with your friends, with no option to cancel closing the app) entirely.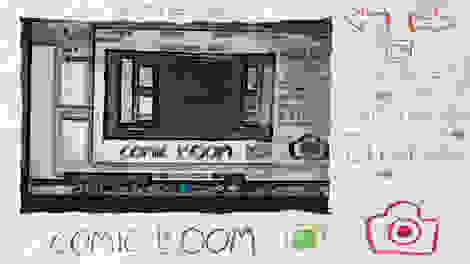 We'd definitely like to see more control implemented in the future, with some in-app help, a way to switch to the front-facing camera, or perhaps some video functionality (the iOS version has this, but we have not tested it). Even without those modest upgrades, Paper Camera is well worth the price in its current form for those looking to see their world in all its cartoony glory.
{:{PhotoGallery article.attachments}:}