The array of cameras displayed at Photokina 2004 was headlined by the volume of digital SLR releases. With a slew of SLR's emerging in the time leading up to the show, nearly every manufacturer made a point to showcase an SLR model. Within given styles and general categories, there is bound to be some consistency and continuity between aspects and attributes on these products that compile the emerging trends. A particular point of interest is the growing categorization that is developing within the general digital SLR classification is increased separation between professional and consumer models. This is a developing notion as typically, digital SLR's had been reserved for professional and prosumer users, however, the current market indicates increased demand and interest in SLR's accessible to moderate consumers as well.
Among the host of recently developed SLR models displayed at Photokina, there were a few constants and shared features that look to become industry trends. Below is a list of the emphasized elements and emerging SLR trends as well as a brief list of the SLR models announced or featured at Photokina 2004.
[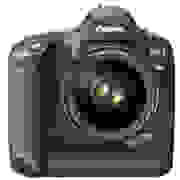 Canon EOS 1Ds Mark II*](../specs/Canon/EOS-1Ds%20Mark%20II.htm) – *The Canon 1Ds Mark II is designed as a superior unification of speed and resolution, providing the user with necessary mobility and shooting flexibility in images that can be printed well beyond 16 x 20. The 1Ds Mark II stands well above professional and prosumer digital SLR's in terms of sheer resolution and image size. Designed to rival medium format cameras, the CMOS sensor on the 1Ds Mark II is roughly the size of a frame on a 35mm piece of film. Also providing wireless capabilities, the Canon 1Ds Mark II is meant to appeal to the professional photojournalist and wedding photographer who need the ability to print large as well as mobility when shooting in the field.
[
Pentax istDS](../specs/Pentax/*ist%20DS.htm) – A central, distinguishing element of the **istDS is the compact frame and reduced weight provided in a digital SLR, even reduced from its predecessor the **istD. Typical marketing points in point and shoot cameras, the **istDS targets the compact aspect of the digital SLR market. Following similar thought, the **istDS places strong emphasis on automatic functionality and user-friendly control, as well as its 2" color LCD monitor to appeal to the introductory and more moderate SLR photographer. Astonishingly, the slight frame distributes its weight well and feel substantial and stable in the users hands. The shutter has a solid feel when it closes down and will not fall prey to typical criticism of lightweight SLR's in that they are often said to feel hollow and cheep, more like a toy then an advanced imager. However, with the *istDS this will not be the case as quality and performance are also in high regard, providing a 6.1 megapixel imager and Pentax's original image processor. The **istDS is compatible with most existing Pentax interchangeable lenses, offering years of 35mm lenses to the forum. To further portability, the *istDS runs on 4 AA batteries and stores information to an SD media card.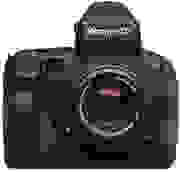 Mamiya ZD digital SLR and Mamiya ZD digital Back – The unquestionable point of interest on these two models is the 48x36mm 22 megapixel CCD sensor used. These models will provide a valid testing means to observe large, high megapixel CCD performance against the increasing preference of CMOS sensors in higher-end products. The Canon 1Ds Mark II is the only digital SLR on display that can come close to rivaling the Mamiya ZD, containing a 16.7 megapixel CMOS sensor. It will be interesting to take images with both of these cameras and compare poster sized prints to observe the ability of a 16.7 CMOS sensor pitted against an enormous CCD. The Mamiya ZD digital SLR is compatible with Mamiya 645AF interchangeable lenses while the Mamiya ZD digital Back accepts Mamiya 645AFD series lens additions. While pixel count is not a question on these two models, speed may be, offering a burst mode of 1.5 frames per second up to 11 exposures. For comparisons sake, the Canon 20D will shoot 5 frames per second constantly while the shutter is held until the card is full. The Mamiya ZD models are equipped with a low-pass filter that can be utilized when desired and disregarded when conditions do not require.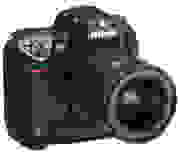 Nikon D2X– Wireless capabilities are a notable feature of the Nikon D2X, which along with the Canon 1Ds Mark II seem to be early strides in an emerging trend that is sure to persist in subsequent high-end digital SLR models. Building on previous strengths in the Nikon D70 and D100, speed is again an element of prowess for the Nikon D2X. When recording full resolution, 12.4 megapixel images, the D2X will shoot at a continuous rate of 5 frames per second. This speed can be boosted with a degradation of image size, shooting cropped 6.8 megapixel images at 8 frames per second. Additional efforts have been made to improve image quality and dynamic range with the implementation of an added image processing method following digital conversion. The D2X also contains an incredible 10 layer exposure feature, creating a single frame out of 10 consecutive shots. Additionally, like many other recent SLR models, increased emphasis is place on the LCD monitor, including a 2.5inch, 235,000 pixel screen fixed to the back of the body.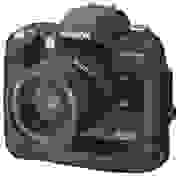 Fujifilm FinePix S3 Pro– A key element of the Fujifilm FinePix S3 Pro is the inclusion of Fujifilm's 12.34 megapixel Super CCD SR II, containing 6.17 million S-pixels and 6.17 million R-pixels in total. The developing dualistic CCD sensor is unique to the S3 Pro among the cameras featured at Photokina 2004 and appears to be an area that Fuji specifically is targeting. This is perhaps where Fuji is looking to gain distinction and separation within the digital SLR market. The Super CCD SR II sensor is crafted for enhanced dynamic range; seeking a broader tonal spectrum between extreme highlights and dark shadowy blacks. There are four dynamic range settings offered on the camera, providing the user with the opportunity for manual selection of dynamic range and granting increased control over their digital SLR. The camera is said to be highly sensitive to light, with increased shooting speed and signal-to-noise ratio (a traditional flaw among CMOS sensors.)
The FinePix S3 Pro includes two "Film Simulation Modes" that are custom image presets for the user to select from. "F1" Film Simulation Mode" is oriented for indoor, studio lit setups and configured to naturalize and purify skin tones, while the "F2" Film Simulation Mode is ideal for outdoor, exterior shooting in landscapes and nature. The FinePix S3 contains separate vertical and horizontal shutter release buttons to cater to the grip being used and will run off four AA batteries for optimal flexibility. **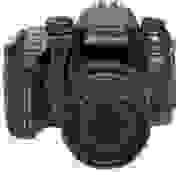 Konica Minolta Maxxum 7D– The main marketing emphasis for the Maxxum 7D is expressed in the self proclaimed title; "world's first digital SLR camera with body-integral, anti-shake technology." As the focal element and separation point for this camera, there was a demonstration of this technology at Photokina where a mechanism continually shook the camera and the viewer could take an exposure from a cable release. Appearing as a trade show gimmick, I approached the setup with heavy skepticism; however, upon my own experimentation with the camera, I found that the images were remarkable clear and still given the intense motion of the camera. While I feel most digital SLR's will provide rapid enough shutter speeds to record a sharp still image in marginal motion, when photographing earthquakes and heavy demolition, the 7D's anti-shake technology may be the only way to go about it.
The enhanced resistance to motion is provided by a CCD-shift (camera-shake compensation) within the 7D's imager that will enable the user to shoot at shutter setting three times slower then a typical digital SLR would require to achieve the same stoppage of motion. This is advantageous to the Maxxum 7D user, providing more flexibility in shutter control as well as the option to use smaller apertures and thus increase depth of field. The Maxxum D7 contains a 6.1 megapixel imager and a 2.5" LCD to appeal to the recent emergence of the compact, lower-resolution digital SLR's demand. This is a developing field and seems to be a particular place of interest and emphasis for many manufacturers.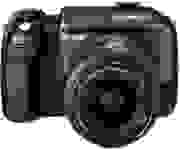 Olympus* E-300 (EVOLT)*– The Olympus E-300 is a interesting addition to the digital SLR ranks because it aims to sit in an increasing void between SLR levels. The camera contains high resolution 8.15 effective megapixel images with moderate speed, shooting up to 2.5 frames per second for up to four consecutive images in RAW or TIFF format; however, the camera is designed for simplistic functionality and practical application. Armed with a crafty Supersonic Wave Filter, created by Olympus to remove dust and particles from the sensor and ensure a clean image. The Supersonic Wave Filter is located between the shutter and CCD and functions to remove unwanted material from the surface of the sensor by vibration. The filter vibrates at 350,000 times per second and is automatically activated when the camera is turned on or can be manually selected from an on-screen menu. The inclusion of added innovative features coupled with competitive speed and resolution in a camera that targets the basic and beginner SLR user is a remarkable notion and seems to be unique.
The E-300 is designed to be an affordable digital SLR, making it available to more then just the professional photographer. Created with functionality ease and simplistic user-camera interface, the E-300 is designed to "be used right out of the box." The E-300 strives for a compact design for portability ease and more controlled handling. A particular design element that seeks to help achieve this is modernized structural design to the mirror and viewfinder. The traditional pentaprism on the E-300 is omitted, opting to include a newly developed, Olympus exclusive TTL Optical Porro Finder and revolutionary slide-swing mirror that shifts horizontally rather then the traditional vertical motion of previous mirror mechanisms. This will leave a flat surface atop the E-300's camera body, helping increase portability ease and reduce the bulk of the frame.