Cameras
Photoshop World Plug-in Round Up
Find a list of plug-in applications for Photoshop demonstrated at Photoshop World XVII.
Boston, MA, April 5, 2007 – At this year's Photoshop World, software developers showcased their companion plug-ins for Photoshop CS3 and Photoshop CS3 Extended. 
Third party Photoshop plug-ins are software additions that automate or expand a specific function of the program, such as masking or retouching, reducing editing time for the user.
Below is a rundown of Photoshop plug-ins featured at the show. 
Corel

KnockOut 2, $99.99

KPT Collection, $99.99
KnockOut is a masking extension that promises to preserve details in photos, including hair, smoke, and fire. The KPT Collection is a bundle of KPT 5, KPT 6, and KPT effects filters that create texture, fractals, and 3D images.
Daz 3D Productions

Daz Studio 1.4 Beta, Free
Geared for graphic designers and illustrators, Daz Studio enables users to easily change the lighting and position of a 3D model. Users can load their own images or choose from a database of more than 4,000 pieces of artwork. Functions include rotate and light presets to illustrated characters. Similar to stock photo agencies, users can also sell their work through Daz, according to Creative Services Manager Tony Bradt.
Daz Studio, called a "perpetual beta," is free to the public. Daz is currently developing a Bridge plug-in, due out in May.
Digital Anarchy

Primatte Chromakey, $299

Backdrop Designer, $199

Knoll Light Factory, $149
Digital Anarchy's Photoshop plug-in technology is derived from editing software for the film industry, according to company president Jim Tierney. The Primatte Chromakey and Backdrop Designer plug-ins can replace backgrounds. Primate Chromakey version 3.0, to be released next month, can extract an image from a blue or green screen and add a new background. Users can choose from 600 texture presets or create custom backdrops.
"For the price of one muslin, you could get a thousand presets," said Tierney.
Digital Anarchy also offers Knoll Light Factory, which is named after its developer John Knoll, who also created a little thing called Adobe Photoshop. Knoll Light Factory has more than 100 preset light flares that can add sparkle or glow to photos. Digital Anarchy includes online tutorials and manuals.
Imagenomic

Noiseware, $49 (plug-in); $69 (stand-alone)

Portraiture, $169

RealGrain, $99
Imagenomic offers three software Photoshop plug-ins: Noiseware for noise reduction, Portraiture for retouching, and RealGrain, a grain enhancement and reduction tool.
"Most people want one-click results. At the same time, we give enough sliders to fine tune images," said Imagenomic consultant George Bowen about the software. The software is fully color-aware, meaning that images can be read by the plug-in regardless of color space, according to Bowen. The plug-ins can also support large image files, handling up to 2 GB of information.
Imagenomic also offers educational tools; ActionBook and ExpertFlow. ActionBook is a set of Photoshop actions used for editing photos. The ExpertFlow feature is a text-based reference guide embedded into the program that educates users about how to best use the plug-ins. 
"Imagenomic is committed to the educational aspect," said David McDonell, Imagenomic CEO and co-founder.
The Imagenomic plug-ins now offer support for CS3, Windows Vista, and Intel-based Macs. Updates to the existing software and a new "automatic workflow plug-in" will be available this summer, according to McDonell.
Nik Multimedia

Dfine 2.0, $99.95

Color Efex Pro 2.0, $299.95 (Complete edition), $99.95 (Standard edition), $79.95 (Rick Sammon edition)

Nik Sharpener Pro 2.0, $329.95 (Family edition), $169.95 (Inkjet edition)
Equipped with U Point technology, Dfine reduces noise in images shot at high ISOs. Color Efex offers 19 to 75 enhancing filters, depending on the purchased edition. Nik Sharpener Pro optimizes the sharpness of RAW images.
onOne software

Intellihance Pro 4.2, $159.95

Mask Pro 4.1, $159.95

PhotoFrame Pro 3.1, $159.95

Pro Digital Frame Bundle, $99.95

Genuine Fractals 5, 159.95

Plug-in Suite 3, $399.95

PhotoPresets, Free
onOne offers a variety of plug-in applications. The Intellihance Pro plug-in offers 23 image-enhancing presets, allowing users to see different variations of a photo. Users can also create their own presets. 
Mask Pro 4.1 is a masking application that can separate the subject from the background. It includes built-in video tutorials.
PhotoFrame is a library of over 4,000 photo borders.
Genuine Fractals 5 can resize images without losing detail, according to onOne.
For the user who wants it all, onOne offers a bundle suite for just under $400. onOne also provides free PhotoPresets for Photoshop Lightroom 1.0.
Paravue

Turbo Mask, $249
Paravue yesterday launched their newest masking tool called Turbo Mask. The plug-in uses what representatives call "vision science" to detect edges in a photo and separate the subject from the background. The software has eight different mask options.
Turbo Mask "deals with the first 80 percent of the process to get edges tight and on target," said Paravue product manager Dan Prochazka. For the last 20 percent of masking, users can manually clean up the image.
Turbo Mask is compatible with Photoshop 7.0 or higher and supports Windows and Mac platforms. Shipping for Turbo Mask begins in May.
Paravue is currently in talks with camera manufacturers to integrate Paravue tools with manufacturer-specific photo editing software that comes with cameras, according to Prochazka. Paravue could not give details on which camera manufacturers the software developer might partner with.
Media Lab

siteGrinder 2, $129 (Basic edition), $249 (Pro edition)
For users who don't have time or the skills to create a website, siteGrinder 2, using a pre-made Web template, converts Photoshop designs into websites,  according to Media Lab president Tom Summerall.
siteGrinder supports Flash for photo portfolios and includes video tutorials on their website.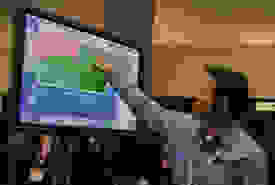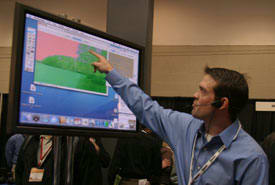 Vertus

Fluid Mask, $199
Fluid Mask uses edge detection technology to select and mask certain areas of a photo. The plug-in eliminates the need to manually trace a portion of an image, which lessens editing time. According to representatives, the software can work with complex images such as scenes involving hair or trees – photos that typically require time-intensive adjustments.
Fluid Mask is compatible with Photoshop 7.0 or higher for both PC and Mac operating systems.
More information on third-party plug-ins for Photoshop can be found on the Adobe website at http://www.adobe.com/products/plugins/photoshop/.