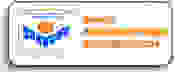 July 5, 2006 – Today, the Photo Marketing Association reported that the majority of digital cameras sold on eBay provide 5-megapixels of resolution or beyond. Replacing 3-megapixel cameras as the most sold, 5 plus megapixel models made up three-fourths of the total digital camera sales on eBay in March.
"Five megapixel digital cameras are now the entry level digital camera model," says the PMA. Five megapixel models now account for the greatest number of camera sales on eBay.
Losing its title of most purchased, 3-megapixel cameras currently make up only five percent of total digital camera sales on the online auction house.
In a two week survey of eBay sales this past June, PMA found that Olympus' 3-megapixel cameras contain the highest average selling price at $150.32, followed by Minolta at $116.58, with Canon coming in third with an average selling price of $103.97. Kodak's average price tag was $74.45 and HP's was $57.26. Fujifilm came in last at $45.71 for its 3-megapixel designs.
"Some individuals and businesses that have new 3-megapixel cameras they would like to sell, need to consider alternative sales channels," says the PMA website about the eBay marketplace.