Las Vegas, Nevada, March 11, 2007 – Digital frame manufacturers made a presence at this year's PMA. In addition to photo viewing capabilities, digital frame makers continued to add music and video functions to their devices. After this week, users will find a lot more options when choosing a digital photo viewer frame.
Digital Foci

Digital Foci Image Moments 6 – Along with their launch of the storage Photo Safe device, Digital Foci (pronounced "foe-sigh") announced their newest 5.7-inch digital frame, Image Moments 6 (Model: IMT-062). At 640x480 screen resolution, the new 5.7-inch frame promises the highest pixel density on its LCD of any other digital frame on the market, according to Digital Foci Director of Marketing Tiffany Guh.
Like many frames, Digital Foci's Image Moments 6 is capable of slideshow function with duration control, MP3 music compatibility, and video playback for MPEG 1, 2, and 4. Users have editing controls to view select folders with their File Library Mode system and remote control.
The frame is compatible with CF, MMC, SD, MS Duo/Pro, and xD memory. The 5.7-inch Digital Picture Frame will retail for $159 when it becomes available June.
Fidelity Electronics

*Fidelity DPF-7050F (7-inch)
Fidelity DPF-1050F (10-inch)
Fidelity DPF-1000PF Digital Professional Frame
Fidelity DOF-1000F Digital Office Frame* – Already established in Canada, Fidelity Electronics entered the U.S. market in January and now has a nine-model line up. Newest additions to the line include the 7-inch DPF-7050F digital frame that has 4:3 and 16:9 viewing. The 7-inch frame comes with interchangeable frames and music and video capabilities that can be saved on the 256MB of internal memory. The 7-inch frame will retail for $149 when it becomes available mid-April.
The Fidelity 10-inch 1050F, displayed as a prototype, will have zooming capabilities for up to 5x magnification, controlled by remote. The 10-inch Fidelity frame is priced at $249.
The company also plans to release a Professional line with a calendar feature, more video functions for AVI Motion JPEG, and MPEG 1,2, and 4. The upcoming DPF-1000PF Digital Professional Frame will also have auto rotate function that adjusts with how the frame is displayed. The upcoming Fidelity DOF-1000F Digital Office Frame will come in smaller versions for desk display, available in the summer.
As far as future plans go, Fidelity plans to release Bluetooth-enabled frames and larger 12 and 15-inch displays for commercial storefronts, according to Fidelity Business Development Manager Richard Kizner.
When asked how Fidelity frames were different from other manufacturers, Kizner said that Fidelity is a digital frame-dedicated company. "It's all quality products, it's not a discount product," said Kizner. Each of their frames comes with 1-year warranties.
Pandigital

*Pandigital 15-inch Digital Photo Frame
Pandigital 5x7-inch Digital Photo Frame* –
"The Pandigital frames are designed to look like traditional digital camera frames," according to Pandigital President Dean Finnegan. Digital frame manufacturer Pandigital showed off two new models, a 15-inch digital frame as their largest frame yet and the 5x7 digital frame which representatives said is the first true 5x7 ratio digital frame.
Aiming their frames to the mass market, the Pandigital devices have a variety of functions including MP3 music compatibility, MPEG 1, 4, and AVI movie playback. The Pandigital frames also have manual LCD brightness adjustment and remote control.
The Pandigital 15-inch frame has a suggested retail price of $299 when it becomes available in May. The 5x7 frame retails now for $114.99.
Pandigital also stated that they plan to announce more frames with wireless Bluetooth capabilities, according to Finnegan.
For other recent Pandigital announcements, readers can find the Pandigital10.4-inch and 6-inch news articles at https://www.reviewed.com/cameras/content/Pandigital-Adds-6-inch-Digital-Frame.htm and https://www.reviewed.com/cameras/content/Pandigital-Announces-104-inch-Digital-Frame-with-Video-and-Music.htm.
Smartparts

*Smartparts 10.4-inch Digital Picture Frame SP104WM
Smartparts 8.4-inch Digital Picture Frame SPDPF84M* – Smartparts announced two new items for their digital frame family in a 10.4-inch and 8.4-inch devices. Equipped with preinstalled OptiPix software, users can watch JPEG slideshows with auto rotation with MP3 music with remote control. The software also enables sharpening and copying functions.
The Smartpart frames accept SD, MS, MMC, CF, and xD cards. The Smartparts 10.4-inch frame will retail for $199.99 when it becomes available in the spring. The 8.4-inch frame is available now for $179.95.
Westinghouse Digital Electronics

*Westinghouse DPF-0702 (7-inch)
Westinghouse DPF-0802 (8-inch)
Westinghouse DPF-1021 (10.2-inch)
Westinghouse DPF-1411 (14.1-inch)¬* - As the fourth largest manufacturer of U.S. LCD TVs, according to a company press release, Westinghouse offers four new digital frames. The largest being a 14.1-inch that has a notebook type panel display with 1280 x 800 resolution, according to a company representative. The frame also has wide 16:9 viewing and 128MB of built-in memory.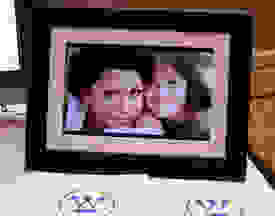 All the Westinghouse frames are powered with MosaicView technology for slideshow function. The frames are capable of displaying JPEG photos and playing AVI Motion JPEG, MPEG 1 and 4 movies. The Westinghouse product line is accepts CF type 1 and 2, MD, MS, MS Pro, MS Duo, MS Pro Duo, SD, MMC, and xD media. Available in March, the 7-inch frame will retail for $119, the 8-inch at $179, the 10.2-inch for $249, and the 14.1-inch will be priced at $399.