Cameras
RealPIX Launches Camera for Real Estate Agents
Read about a new digital camera geared for real estate agents.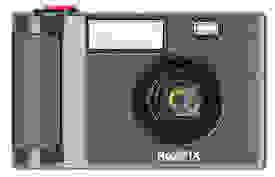 April 11, 2007 – Camera manufacturer RealPIX recently announced a new point-and-shoot digital camera targeted to real estate agents. The camera features a wide-angle, fixed-focus lens and will retail for $299 when it becomes available in July.
"Pictures of houses, inside and out [are] a huge, huge part of the lives of these real estate professionals," states the RealPIX website. With nearly 1 million licensed real estate agents in the U.S., traditional camera manufacturers have neglected to create a real estate-dedicated point-and-shoot, according to the RealPIX website.
Limited to only a few buttons and functions, the RealPix camera is ideal for photography novices. The camera has a fixed-focus 22mm f/2.0 lens ideal for wide shooting both indoors and outdoors. The camera is also equipped with a flash for illumination of up to 20 feet.
"Don't buy it expecting to take family Christmas photos with it," states the company website. "It does only one thing, and does it better and easier than any other camera. It takes remarkable interior room and exterior house shots."
The RealPIX camera takes JPEG photos at 640x480 pixel resolution, lower than most standard point-and-shoots but suited for viewing on the Web. The camera's built-in memory holds 400 images. A user can charge their camera using a USB cable, wall charger, or a portable car charger.
"Until RealPIX, no manufacturer has taken the requirements of the trade seriously enough to engineer a camera optimized only for this usage," states the site.
However, in recent years, other camera manufacturers have launched cameras with features that could be beneficial to real estate agents. Similar to the RealPIX camera, Casio's point-and-shoots have an eBay mode, which is a built-in function that optimizes images for the Web. Fuji's FinePix Z5's Blog Mode also downsizes photos.
The Pentax Optio T30's My Drawing Mode allows users to write notes on photos by using a pen device to write on the LCD screen. Similarly, Sony's Cyber-shot N2 offers a Paint function in which users can stamp graphics or letters on images.
One of the latest digital photography trends is geo-tagging photos, which real estate agents may find useful. Sony recently introduced the GPS-CS1 device that attaches to any Sony digital camera or camcorder and records location data for the user. 
The RealPix camera comes with a 1-year warranty and is available for pre-order at http://www.realpixcamera.com/index.html.