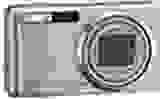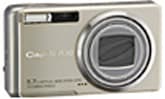 January 11, 2006 – Ricoh has released a 5 megapixel camera with a 5.7x optical zoom range made possible by a Ricoh-specific retraction system enabling such a lens to fit inside a point-and-shoot camera.
The Ricoh Caplio R30 5.7x optical zoom lens has a focal length of 4.6-26.4mm, equivalent on a 35mm camera to 28mm -160mm, allowing for wide angle to telephoto shooting. The wide angle to telephoto capability is available due to a double retracted lens that swings one of the lens groups off to the side as the lens retracts into the camera, a movement that Ricoh equates to a pendulum. The lens aperture goes from f/3.3 in wide angle to f/4.8 in telephoto. The camera has 7 step-zoom intervals: 28mm, 35mm, 50mm, 85mm, 105mm, 135mm and 160mm. The R30 is also capable of macro shots as close as 1 cm in widest angle to 8 cm in telephoto.
According to Ricoh, the slim point-and-shoot R30 powers up in just 1.1 seconds and resets between shots in 0.5 seconds. They also claim a shutter release lag of only 0.007 of a second. For those interested, there are eight scenes modes available in addition to three continuous recording modes and the typical auto mode.
The TFT LCD screen on Ricoh's Caplio R30 is an ample 2.5 inches with adequate resolution of 114,000 pixels, though this is short of today's standards. Screen brightness is adjustable.
The Ricoh Caplio R30, which comes in black or silver, is approximately 3.7 x 1 x 2 inches when the lens is retracted and weighs a 1/3 of a pound unloaded. The Caplio R30 has a built-in memory of 26 MB and accepts SD memory cards of up to 1 GB, as well as MultiMedia Cards. It also has a USB port for sharing images with another device. The R30 takes a lithium-ion battery that lasts up to about 330 shots, but also comes with an AC adapter.