May 19, 2005 - Rollei, manufacturer of the highly coveted and respected twin-lens reflex cameras, today rolled out its Rolleiflex Digital Bundle which mates its 6008 AF single lens reflex camera with a 16 megapixel db20p digital back, along with software and two lenses at a retail price that is expected to be around $15,000.
Rollei cameras have been known to set a true camera connoisseurs heart aflutter and this old school/new school mating will undoubtedly excite professional photographers and those with really, really deep pocketbooks.
The keys to the bundle are the camera, its add on digital back and two new Schneider-Kreuznach and Carl Zeiss lenses. The 6008AF is the heart of the system, the first auto focus single lens reflex camera in a 6 x 6 medium format. Without a lens the Rolleiflex 6008Af and db20p measure 5.6 x 5.4 x4.8 inches at a weight of 3.3 pounds.
According to Rollei, 'The db20p has resolution of 16 megapixels, 16 bits per RGB or CMYK color, and offers the option of saving RAW files in addition to TIFF and JPEG files. The unit handles studio or location shoots with ease, thanks to high performance rechargeable batteries that provide 250 shots (four working hours) and 45 frames per minute without AC power.'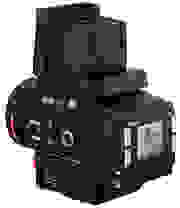 Data from the db20p is stored in the IIQ RAW format on CompactFlash cards and processed images can be stored in the form of IIQ RAW, TIFF-RGB, TIFF-CMYK or JPEG files. File sizes are between 48 MB and 128 MB, according to Rollei.
Lenses from Schneider-Kreuznach and Carl Zeiss are included in the bundle. Three new lenses have also been developed for the 6008 AF, in addition the 20 lenses compatible with the Rolleiflex 6000 series will also work with the 6008 AF system.
Rollei is also including the C1 Pro software in the Digital Bundle. The C1 Pro software covers all phases of image editing and can be operated intuitively, according to Rollei.
The 6008AF and the Digital Bundle is not for novices and Rollei fully acknowledges this system for professionals in and out of the studio.