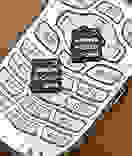 December 13, 2004 — Samsung introduced an MMC-micro memory card built for camera phones today. The cards are a mere 12 x 14 x 1.1mm, as compared to SanDisk's reduced size MMC card at 18 x 24 x 1.4mm. The tiny card is tailored to fit the progressively shrinking camera phones.
The low-power MMC-micro card can read 10MB per second and write 7MB per second. To build the small cards, Samsung stacked up to five NAND flash memory devices on top of each other. The MMC-micro cards are also designed to be easily removed from handsets.
The cards will be available in 32, 64, and 128 megabyte sizes beginning early 2005. Larger sizes are bound to hit the market in the future. Gartner, Inc., a research and analysis firm, predicts the demand for MMC cards to grow an average of 61 percent annually through 2007.