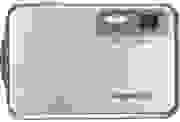 May 25, 2005 – With images and information exchanged since a photography trade show last month in, to minimal surprise, Samsung officially announced the Digimax i5 on Tuesday.  The sleek, slender 5 megapixel Digimax i5 is designed to complete in the increasing ultra-slim segment of the digital camera market, bringing a 2.5-inch LCD screen and variety of body colors.   
Hoping to penetrate a variety of slim digital camera markets, Samsung's clean-lined Digimax i5 features a 3x optical zoom lens (equivalent to 39-117mm in 35 mm format) and large 2.5 inch, 230,000 pixel LCD screen in its slender 3.5 x 2.3x 0.6-inch, 4.6oz. stainless steel package.  The camera will be available in four color choices - silver, black, red and grey.
The Digimax i5 comes with a substantial 50MB of internal memory, along with SD and MMC card slots for additional storage.  The expansive internal memory will no doubt come in handy when utilizing the camera's movie mode, which captures VGA video with sound at 30 frames per second. When an additional 256 MB SD card is used, the Samsung Digimax i5 can record roughly 130 minutes of video. 

Shanghai last month, Samsung also showed off a camera called the Digimax i50. Little is know about these cameras, except cosmetically it appears to be nearly identical to the Digimax i5, with only a slight reduction made to the protective cover, which moved across the lens and flash on the i5; the cover only spans the length of the lens on the i50.    
Interestingly, the Digimax i5 seems to be the twin to the Digimax SL1 which apparently is the name given to the camera in certain European markets. On Samsung's Korean website, a teaser for the camera bills it as the '#1' model.  It remains unclear if this is simply marketing or yet another camera name.  

 
Pricing for the Digimax i5 is expected to be somewhere around $450 or £250.