**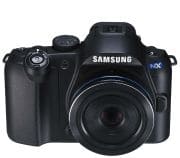 March 2, 2009 *– *At PMA in Las Vegas, Samsung Digital Imaging is showing a concept camera which the company calls a "hybrid," featuring a compact body with Live View photo composition and no SLR-style mirror assembly, much like the Micro Four Thirds format,  but with a larger image sensor.
The first of a new series dubbed NX, the camera uses the APS-C sensor format found in most digital SLRs, but doesn't have a single-lens reflex mirror system. Instead, it uses an electronic viewfinder combined with Live View on the rear LCD for composing photos. Samsung says that by sidestepping a mirror mechanism, the NX series cameras reduce the distance between the lens and the image sensor by 60%.
If this sounds reminiscent of the Micro Four Thirds format developed jointly by Olympus and Panasonic it should: at the IFA trade show in Berlin last September, shortly after Micro Four Thirds was announced, a Samsung executive vice president discussed the company's plans for a new compact interchangeable lens system camera with a 14-megapixel APS-C sensor.
The brief press release distributed by Samsung here at PMA doesn't discuss megapixel count, or even mention interchangeable lenses, but it's worth noting that a Micro Four Thirds sensor measures 18 x 13.5mm, while a typical APS-C sensor measures about 23 x 15 mm.
The first model of the NX series is promised for the second half of 2009, with no pricing information or additional details provided so far.