Cameras
Seek Brings Army-Grade Thermal Imaging to Phones
How hot is your selfie?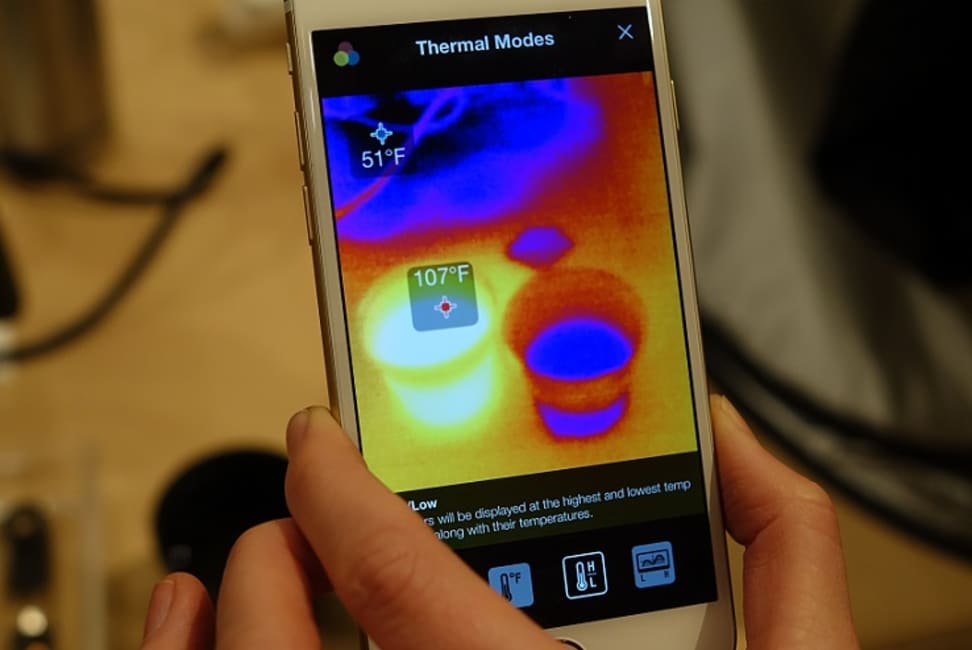 Credit: Reviewed.com / Joe Stohlman
It used to be that without a badge or special military clearance, thermal imaging was out of reach. But today, a small company is working to make it as accessible as your average Instagram snap.
Yep, technology that used to cost thousands of dollars can now be accessed by anyone willing to pony up $199.
The Seek Thermal camera is a small device that plugs into your iOS or Android smartphone or tablet, detects infrared light, and translates it to a live-view image on your screen. The companion app lets you change viewing functions—including a split view, and high and low marks—and capture images and video.
The technology, which was developed with help from aerospace veterans Raytheon, has many practical uses. Worried pet owners can use it to scan dark streets at night. Home handymen can use it to find studs in the wall and heat leaks in door frames. You can even improve your cooking by knowing just how evenly your griddle is heating up.
While your eyes may fool you, it is much harder to fool a thermal camera.
There's a reason why thermal imaging is used by firefighters, policemen, and search and rescue teams. While your eyes may fool you, it is much harder to fool a thermal camera. Plus, it just looks cool.
The camera itself is compact, and relatively unobtrusive when attached to your mobile device. The app interface simple and un-cluttered, allowing for easy changes between different viewing modes. You can download it for free on Google Play or Apple's App Store.
If thermal photography is something you've been itching to try out, you can pick this gadget up right now at Seek Thermal's site or Amazon.com.