November 8, 2004 – In an effort to attract holiday consumers, Konica Minolta announced Friday that it will offer a $150 store voucher to buyers of the new Maxxum 7D. Between October 1 and December 31, consumers get the voucher and a free two-year extended warranty on the Konica Minolta Maxxum 7D. The "Shake Your Body" promotion features the camera's anti-shake technology, touted to be world's first digital SLR with the camera-shake compensation function.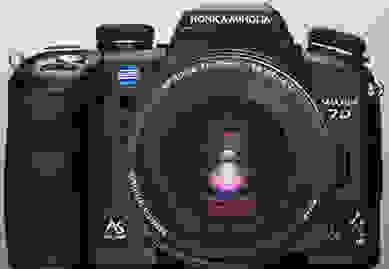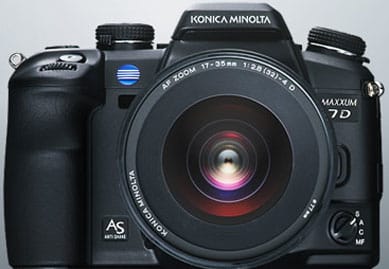 The 6.1-megapixel camera competes with similar models manufactured by Canon and Nikon. Last week, both Canon and Nikon announced promotions in the United Kingdom. The Nikon D70 will sell for £100 less at £699.99 or about $1,290 USD. In the United States, the Nikon D70 camera body retails for $999. The Canon Digital Rebel, called the EOS-300D in the U.K., is offering a £100 rebate and a 256MB CompactFlash card and sells for £779 or about $1,440 USD. In the United States, the Canon Digital Rebel sells for $879.95. The Konica Minolta Maxxum 7D camera body sells for $1,599 USD.
The cameras should provide tough competition for the holiday market share. The 6.1-megapixel Nikon D70 starts up in .2 seconds to take its first shot and offers extensive manual controls. The 6.3-megapixel Canon Digital Rebel touts itself as the most affordable digital SLR on the market. The Konica Minolta Maxxum 7D counts on its anti-shake technology and "Shake Your Body" promotion to justify the camera's price and remain competitive among holiday consumers.