Cameras
Sigma Introduces SD14 DSLR with Foveon X3 Imaging Chip
Sigma Introduces SD14 DSLR with Foveon X3 Imaging Chip, Sigma SD14
Cologne, Germany, September 26 - Sigma today unveiled the SD14, a 14-megapixel DSLR built around the unique Foveon X3 image sensor. The SD 14 will sell in Europe for about 1499 Euros – about $1900. The SD14 includes dust protection, 5-point autofocus, and JPEG as well as RAW file formats.
Most imaging chips record red, blue and green components of pixels on side-by-side photosites. The Foveon X3 chip is different, because the red, blue and green photosites for each pixel are layered one on top of the other. Color film works the same way, with separate layers for each color. Foveon and Sigma promise "genuine high image quality with no compromise at all" because of the layered design.
Though Photokina visitors were allowed to handle the SD14 and shoot with it, Sigma did not let visitors save SD14 images to their own Compact Flash cards – the floor models are prototypes, according to Sigma's comely but uninformed booth workers.
The SD 14 features a 2.5-inch, 150,000-pixel LCD and a pentaprism-based viewfinder that delivers 98 percent coverage vertically and horizontally, with 0.9x magnification. It has 5 autofocus sites toward the center of the frame.
The SD14's dust protection scheme is remarkably low-tech – the camera has a removable glass window at the mouth of the lens mount. It's easy to clean the glass because it's not hidden behind the mirror or the shutter. And even if dust remains on the window, it's so far away from the sensor that it won't be in focus on the sensor, according to Sigma. It was not possible to test the proposition at the Sigma booth, where the lovely attendant would have prevented any foreign correspondent from shaking a few flakes of dandruff into the prototype. Logic suggests that with long telephoto lenses, dust on the window would be less out of focus than with the very wide 10-20mm zoom mounted to the prototypes.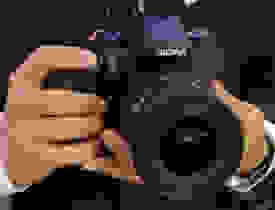 Fortunately, we ran into Sigma's well-informed Chief Operating Officer, Kazuto Yamaki, who provided some insight and a few scaled shots of the 5.7 x 4.2 x 3.2-inch, 24.7 oz. SD14. Since Sigma's sample images are carefully-lit studio shots that show remarkable detail and color reproduction, it's apparent that SD14 will make its mark – or not – with image quality, not portability or price.