February 17, 2009 - Sony today unveiled its spring Cybershot line, including two new touch-screen models, a low-cost 10x ultra-zoom, two new models in the W series and a 12-megapixel camera with 4x zoom priced at $149.
All but one of the new cameras offer optical image stabilization and some form of Sony's Intelligent Auto system, which lets the camera choose appropriate settings based on its identification of elements in the scene and shooting conditions. (the $149 DSC-S980 is the exception). While variations on the Intelligent Auto concept are now widely available from point-and-shoot manufacturers, the Sony wrinkle is having the camera automatically take two shots at different settings, one after the other, an approach pioneered in the company's automatic blink detection system. When shooting people in a backlit situation, for example, the camera takes one shot with flash, face detection and blink alert enabled, another with the dynamic range optimization feature turned on.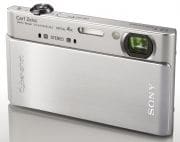 Sony' distinctive T series, with its touch-screen displays and slide-down front cover design, gets two new members with the T90 and T900 (shown). Both feature 12.1-megapixel resolution and a 4x optical zoom lens (35-140mm equivalent), The most visible difference between the two models is the touch-screen display: the pricier T900 ($379) offers a 3.5-inch LCD with 921,000-dot resolution, the T90 ($299) a more pedestrian 3-inch, 230,000-dot screen. The T900 also supports HDMI output to an HDTV (using the included stand) or a component connection directly from the camera, while T90 HD output is component only.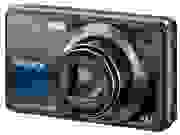 The W290 ($249) delivers a 5x zoom lens (28-140mm equivalent) and a 3-inch LCD, plus the ability to shoot high-def movies at 720p resolution and play them back on an HDTV via component cables. Sony's dynamic range optimization system is included, with two intensity settings. There are 11 scene modes, and the Intelligent Scene Recognition system can tap into eight of them.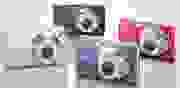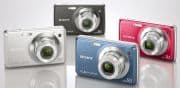 The W230, priced at $199, is a modest step-up from the W220 announced at CES, is a 12.1-megapixel camera with 4x optical zoom (30-120mm eq.), a 3-inch LCD and high-def TV output via component cables. The only significant differences between the W230 and the W220 is screen size: the earlier model has a 2.7-inch LCD.
The H20 is an inexpensive ultra-zoom model, providing a 10x lens (38-380mm equivalent) for $279. Resolution is limited to 10.1 megapixels and the maximum f/3.5 aperture means this isn't the fastest lens you'll find, but buyers do get a 3-inch LCD, 720p video recording, ISOs to 3200 and a top shutter speed of 1/2000 second.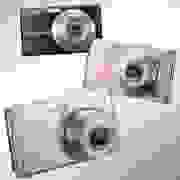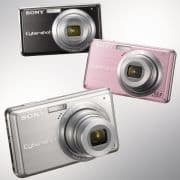 Finally, in the value-priced department, the DSC-S980 at $149 provides 12.1-megapixel resolution, 4x optical zoom (33-132mm equivalent) and a 2.7-inch LCD, with ISO settings up to ISO 3200, six scene modes and digital (but no mechanical) image stabilization.