Cameras
Software Editorial: HP Photosmart Essential 2.0
Software Editorial: HP Photosmart Essential 2.0
Las Vegas, Nevada, March 8, 2007 – Along with three new cameras launched today - the Photosmart R837, M537, and M437 - HP announced a major update to its photo editing and manager software, Photosmart Essential 2.0, which is included in their camera kits. Tailored for novice camera users, the HP software has a new Photo Library system and a tagging system for entering metadata. PC users can download the free software on the manufacturer's website. Like HP's digital cameras, its software is designed to streamline uploading, organizing, editing, printing, and sharing.
Interface Look and Design
Even on first sight, HP Photosmart Essential 2.0 is pleasing to the eye. Users will be brought to their personalized "home page," the introductory screen that gives users a few easy options to proceed. With a blue background that Windows users are quite familiar with, the HP Photosmart Essential home page brings up a 3D-like view of images from the user's last upload, similar to the look (but not the function) of the 3D Flip of Windows Vista operating system that activates the Library.
From the home page, users can choose to sign up for a free Snapfish online-sharing account, the HP subsidiary company. Users can also import photos, view the library of photos, share, or print. Users can also activate the "Learn more" screen, like the Help menus offered on the HP cameras. HP Photosmart Essential 2.0 is consistent with the camera menu system and offers users as much or as little help as needed with the included guides.
The design is simple and contemporary, from the overall appearance to the sans serif text. The interface is basic but won't insult the intelligence of novice users.
Library
HP updated their software with a new Library system, by far, one of best features about the HP Photosmart Essential 2.0 software. Users can personalize how they view their photos, a trend that many software developers are getting wise to. Users are given three standard options to view the catalogues of photos: (1) Data that automatically organizes the photos based of EXIF information; (2) Tag that groups images together by metadata keywords that the user ascribes to the photos; or (3) by Folder such as Desktop, My Documents, and computer drives.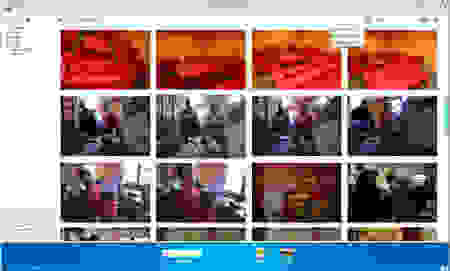 Another helpful feature of the new HP software is the customized thumbnail view. Users can preview in three ways: (1) Basic which keeps the photos proportional to actual size, likely, the most used viewing format (2) Compact which alters the images into square format, and (3) Details which displays photos with image file name, date, time, and resolution information.
There is also a sliding scale that allows users to change how big each photo should be for viewing, like the sliding size scale on the Mac photo editing program, iPhoto. This provides a quick and easy way for users to view their photos. For those whose sight is weakening with age, the Basic, is a large photo format, while others may utilize the Details view, which is a small photo format view with resolution information. Whatever your preference, the Basic, Compact, and Details views are geared for every type of user.
Tagging
It's not just about viewing photos; it's also about retrieving them. More and more point-and-shooters are loading multi-GB cards, uploading large volumes of photos from their summer vacation to Christmas.
As a response, HP Photosmart Essential 2.0 offers a Tagging system, which would have been a great idea, if it worked properly. The tagging section proved disappointing with a clumsy system that required too many steps. We tested the software with Windows XP with a catalogue of sample photos.
While many other software programs offer similar metadata entry, HP's system did have a nice, clearly labeled, dedicated "Tag" section. Users can highlight photos and enter tags as "Favorites," "People," "Places," "Events," "Other," "Untagged," or manage more images with "Add Tag." Located at the bottom of the screen is a Find box for users to search for particular images with keywords. It's too bad its "Add Tag" function is misleading. Users might be better off  to abstain from tagging just to avoid the confusion all together. The "Add Tag" function simply allows users to include another category on the left hand box, but it will not assign the keyword to a selected item. For example, if a user selects a photo of a dog, then selects "Add Tag," entering the word "Dog," the selected photo is not really labeled with the keyword. When the users searches for "dog" in the Find box, the user will find that no photos were actually labeled. Users have to first manage the left hand category box, and then take the extra step to assign the keywords, costing the user time. HP's tagging section, with its simple interface, would have been extremely helpful for new users if it followed through. Its tagging system would have benefited from a simpler "Manage Tags" option and dual function, allowing users to both add and assign tags at the same time. Unfortunately, the Tag section proves too confusing for both new users or photo software-savvy consumers. **Editing Options **Users can only edit photos one-at-a-time with a simple list of options: rotate, crop, flip, remove red eye, and resize. There aren't any fancy slimming or touch-up effects like the ones offered on HP cameras to make people prettier, but there are intuitive selections for standard print sizes or standard web resolution for posting. HP Photosmart Essential 2.0 also includes Adaptive Lighting and Temperature tools, as well as black and white and sepia special effects.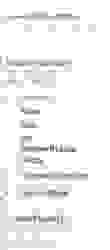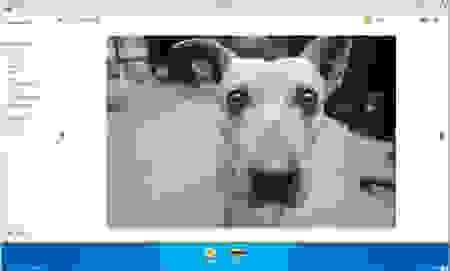 Sharing Photos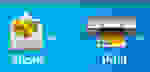 The Slideshow includes basic customized options such as duration speed, forward and back tools, and a rotate function that allows users to view their photos full screen.
The Share function allows users to share photos by email that saves a contact list. Users can upload their address book directly from Outlook. For people who don't use Outlook, they will have to enter email addresses manually.
Customers with at-home printers will benefit from the Print function, offering a healthy selection of options. With the Simple Print tool, users can print one image in different sizes including wallets and 5x7. With the Photo Template tool, users can create multi-image collages by inserting pictures on the given templates.
Conclusion
Overall, the HP Photosmart Essential 2.0 is simple enough for its target audience of novice camera users. Although editing tools and special effects are limited, the simple design of the interface, its best feature, will win some users over. The poorly managed Tagging system, however, will cost HP some costumers in its HP-specific software. HP Photosmart Essential 2.0, like HP cameras, isn't anything fancy, but for the free price tag, it will get the job done. If the next version of HP Photosmart Essential includes an improved Tagging system and Mac compatibility, it could be something to look forward to.
HP Photosmart Essential 2.0 is available for download at www.hp.com/go.pse.