Cameras
Sony Announces Cyber-shot RX100 High-End Compact
Sony rolls out their flagship Cyber-shot, packed with better hardware than any of its pocket-camera peers.
Sony announced the Cyber-shot RX100 today, the company's first true flagship compact camera in several years. In a nutshell, the RX100 is built with more impressive components than most of its high-end competitors, but they're crammed into a chassis that's still small enough to actually fit into a pants pocket.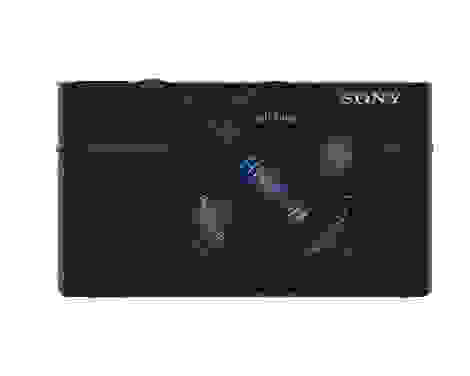 The most vital specs are the 1-inch, 20.2-megapixel Exmor CMOS sensor, coupled with an f/1.8-4.9, 3.6x Carl Zeiss Vario Tessar T* lens (28-100mm equivalent in a 2:3 ratio). That chip is much, much larger than the 1/1.7- and 2/3-inch sensors in most raw-shooting compact cameras, and the maximum aperture is tied for the brightest on any pocket-cam.
If it works as Sony hopes it will, the beefy sensor and fast lens should offer crisper detail, less noise, and a shallower depth-of-field than enthusiast favorites like the Canon S100 or Panasonic LX5 in a much more portable package than the huge-sensor, fixed-lens Canon G1 X or Fujifilm X100, with roughly competitive image quality.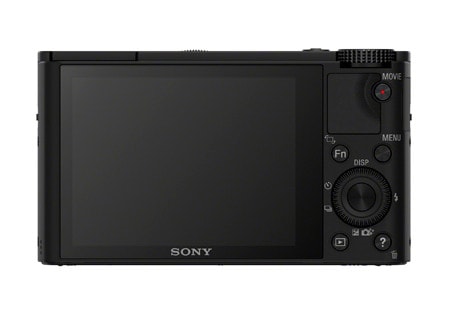 Other enthusiast-bait specs include a 3-inch, 1,229,000-pixel "white magic" LCD, raw and raw+JPEG image capture, ISO up to 25,600 with multi-shot NR (ISO 6400 native), 10fps burst shooting (approximately), 1080/60p video mode, full manual exposure control in both photo and video modes, a two-dial control interface including a lens ring, and an aluminum body.
Also making an appearance are a slew of Sony's fan-favorite extra features including sweep panoramas, focus peaking in MF mode, 13 picture effects, and auto portrait framing.
This is an impressive announcement, and on paper, the RX100 fills a gap in the high-end fixed-lens segment; sensors have either been quite small, or the bodies very big, with nothing in the middle. Compared to the Canon S100, the RX100's body is the same size, but the sensor is about three times larger.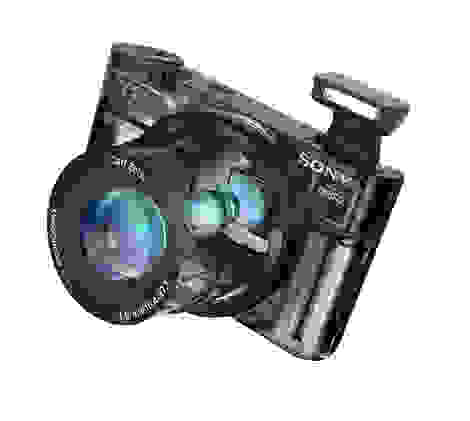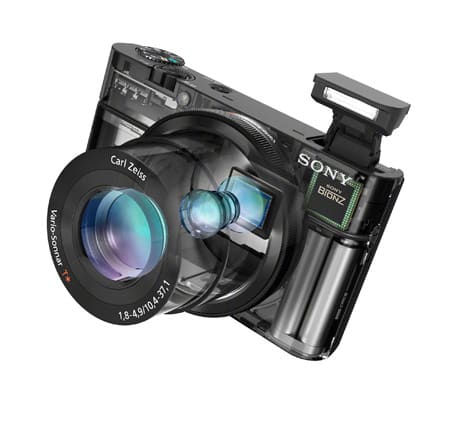 One possible sore point the reception could be the 1-inch sensor format, which is relatively new and still unproven in the eyes of some camera fans. Nikon uses these chips in their 1 Series J1 and V1 mirrorless shooters, which have sold very well despite lukewarm reviews of their image quality. Perhaps expectations will be different for a pocket camera than they were for interchangeable-lens models.
Sony said in a briefing that they think the RX100 can appeal to a few types of buyers: enthusiast DSLR owners who want a compact as a secondary camera but don't want to sacrifice too much image quality if they can avoid it, as well as casual shooters who want better image quality but know that they don't want to fuss with interchangeable lenses. It'll be a tough sell for the latter group, but we anticipate a warm response from the hobbyist crowd.
The RX100 will be available in late July for $649, a fair price for the spec sheet—more expensive than most compacts but on par with many entry-level system cameras. For more info and full specs, head to Sony.com.
{:{PhotoGallery article.attachments}:}