Cameras
Sony Announces Full-Frame A850, HDR-Capable A550 and A500
Sony Announces Full-Frame A850, HDR-Capable A500 and A550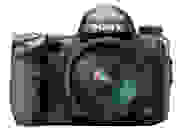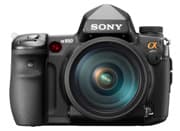 August 27, 2009 – Today Sony introduced its second full-frame camera, the DSLR-A850 (right), with a feature set nearly identical to the existing A900 and a $700 lower price. Also announced were two APS-C-sensor SLRs, the DSLR-A550 and A500, featuring the ability to create two-shot high-dynamic-range images automatically, with image processing inside the camera.
The A850 is an extremely close relative to the A900 introduced in September 2008: same full-frame 24.6-megapixel sensor, in-camera image stabilization, dual processors, lens mount, 3-inch 921,600-dot LCD, 200-3200 ISO range (extended to 100-6400), HDMI output and autofocus system. There are really only three significant differences. The A850 provides a 98% view through the optical viewfinder, while the A900 covers 100%. Top burst rate for the A850 is 3 frames per second, versus 5 fps for the A900. And the Remote Commander wireless controller is included with the A900; for A850 purchasers it's an optional extra. Beyond that the differences are cosmetic and economic, with a list price for the A850 body of $1999 versus $2700 for the A900. The A850 is expect to ship in September.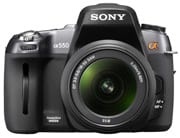 Sony also followed up its May announcement of three entry-level SLRs with two new mid-range models, the A500 and A550. The two cameras differ in resolution (the A550, shown at right, shoots at 14.2 megapixels, the A500 at 12.3 megapixels), but they share the same headline features, most notably a sophisticated high dynamic range function that automatically produces images of high-contrast subjects with balanced shadow and highlight areas by combining two images taken a fraction of a second apart. Using a system calls 'positional interpolation' to compensate for slight changes in position between shots, these are the first cameras that provide in-camera HDR without a tripod.
The camera's metering system can determine how wide an exposure adjustment should be made between the two shots, or the user can specify bracketing values. In either case, the composite is created by the camera (a process that takes about two seconds), rather than using external software. Shots we took with a preproduction model using the HDR feature were quite impressive.
Speedy shooting plays a role in making the HDR feature practical – minimal movement between exposures helps with precise alignment. The A500 and A550 also speed through continuous shooting assignments, with default burst rates of 5 frames per second shooting with the viewfinder and 4 fps in Live View mode. The A550 also offers a speed priority mode which locks autofocus and autoexposure with the first shot and then churns out 7 shots per second.
Both cameras offer articulated LCDs that tilt 90 degrees up and down. The more expensive A550 provides a high-res 3-inch display with 920,000-dot resolution, while the A500 screen is a more pedestrian 230,000-dot screen.
The cameras use a 9-point autofocus system and, unlike most SLRs, use phase-detect sensor for focusing in Live View mode as well as viewfinder shooting. These new models add Manual Focus Check Live View, providing 7x and 14x views for precise manual focusing operations, including macro photography. Both cameras include pop-up flash, HDMI output and face and smile detection. Smile Shutter and Face Detection, popular in the company's point and shoot line, are also included in these new alpha series models. The cameras accommodate both Sony's Memory Stick PRO and standard SD/SDHC cards. The two bodies are essentially identical at 5.39 x 4.09 x 3.31 inches  (137 x 104 x 84mm).
The A500 will sell for $750 for the body alone, or $850 bundled with an 18-55mm zoom. The A550 is priced at $950 for the body, or $1050 for the kit. Both are scheduled to ship in October.
Also included in today's flurry of product introductions is the SAL2875 28-75mm f/2.8 SAM lens, shipping in November for about $800.