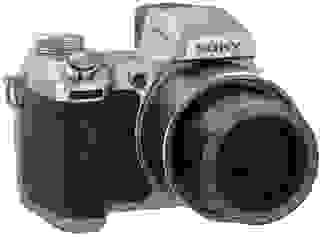 February 19, 2005 — Sony announced the 5.1-megapixel SLR-shaped Cyber-Shot DSC-H1 today. The digital camera, targeted toward serious enthusiasts, boasts a 12x optical zoom lens with Super SteadyShot image stabilization technology. The H1 incorporates -manual controls with user-friendly features such as its 2.5-inch LCD screen, 32 MB of internal memory, and full VGA resolution movie mode. The Sony H1 will be available in June for $499.95.
"We think that by combining long zoom, high performance optical image stabilization and a 2.5-inch LCD, we'll have a very attractive combination of features set to what we see is a rapidly expanding part of the market," said Mark Weir, product manager of digital cameras and digital photo printers for Sony. Weir said Sony is catering to a more educated audience with its newer cameras, including the DSC-H1, because consumers are beginning to find out what they really want in a digital camera.
"We're finding that more and more customers in the digital camera market this year are either repeat owners — they've already owned a digital camera — or there are those who are migrating from film who have waited to enter the digital market because they have an awareness of some of the limitations that digital cameras have until now," Weir said. "These customers who are repeat buyers or who are migrating from film…already have a high expectation for cameras that perform very quickly."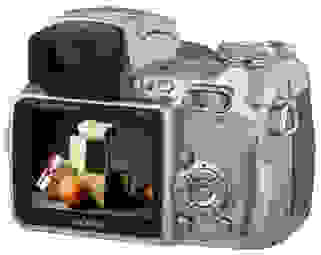 Thanks to film converts and educated buyers, Sony is including a Real Imaging Processor in its Sony H1 that creates high picture quality while decreasing shutter lag time and increasing the life of the camera's two AA batteries. The 5.1-megapixel Sony Cyber-Shot DSC-H1 has manual, priority, and automatic modes, as well as versatility with its 12x optical zoom lens. The 36-432mm equivalent lens is compatible with telephoto, wide, and close-up conversion lenses.
Sony is including more user-friendly features on its H1. In addition to its electronic viewfinder, the H1 also has a 2.5-inch LCD screen. With the large screen, users can playback images and movies with audio. The Sony H1's movie mode records 30 frames of 640 x 480 resolution each second. It can do this to the capacity of the Memory Stick or internal memory. Previous Sony digital cameras have had as much as 16 MB of internal memory, so the DSC-H1 reaches a new capacity of 32 MB.
"We see this (internal memory) as being an advantage in terms of usability," Weir said. "You can't inadvertently go out with the camera without a memory card."