Cameras
Sony Expands GPS Tracker Compatibility
Read about how you can add geo-tagging capabilities to your existing digital camera with Sony's updated CS1KA device that records location information to photos.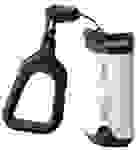 May 3, 2007 – Most digital still cameras can now record location coordinates, announced Sony this week. Sony recently updated its GPS-CS1KA GPS Image tracker. The device now includes Picture Motion Browser software, adding compatibility with virtually any digital still camera or camcorder, according to a May 1 company press release.
The Sony GPS-CS1KA records latitude and longitude coordinates of each image. Users can then upload their photos to their computer and organize them on a Google map. 
The GPS Unit Kit (GPS-CS1KA) retails for $149.99. Click here to visit the Sony's online store.