June 11, 2008 - Sony today announced a back-illuminated CMOS sensor promising nearly double the sensitivity of its current CMOS chips along with lower noise in images. Traditionally, front-illumination technology has been used for imaging sensors. According to Sony, though, back-illuminated sensors will deliver improved performance in both digital cameras and camcorders
The back-illuminated (or backside-illuminated) technology concept isn't new, but using it to provide acceptable levels of sensitivity and noise would be. Past incarnations have led to increased noise and image degradation, but Sony claims its new model has made changes to eliminate these issues.
Front-illuminated CMOS sensors are layered in the followng order: the on-chip lens to direct light into the sensor, color filter to separate red, green, and blue light, metal wiring and transistors to direct electrons for processing, and the photo-diode, which actually collects the light.
Back-illuminated sensors swap the last two layers, placing the photo-diode above the metal wiring. Removing the obstruction of wiring and transistors above the sensor eliminates image degradation caused as light makes its way down through a front-illuminated chip,leading to decreased noise and increased sensitivity.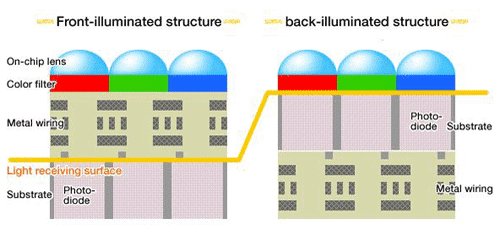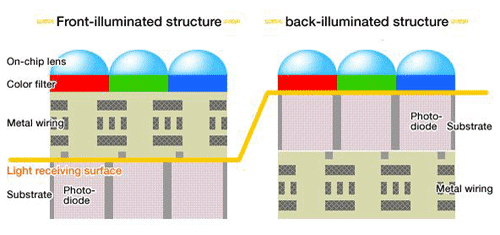 Sony has constructed a protoype back-illuminated CMOS sensor with 5-megapixel effective resolution that can capture 60 frames per second.  The company has not released plans to incorporate the technology into upcoming digital cameras or camcorders, though.
The company is not alone in the back-illumination sensor market.  In May, Omnivision announced its own 8-megapixel backside-illuminated sensor for hte cellphone camera market.  This article from EE Times outlines the Omnivision sensor features, with a useful overview of back-illuminated technology developments prior to Sony's announcement.