Cameras
The Best Superzoom Cameras
If a huge zoom range is your number-one priority, check out our favorite superzoom cameras.
Credit:
The defining characteristic of any superzoom camera is—surprise!—a huge zoom range. Anything longer than 20x is considered normal these days, with the most powerful zooms hitting 50x. This versatility makes them suitable for a range of photographic pursuits, though they're most popular among wildlife enthusiasts and parents of young athletes.
Superzooms are big and expensive compared to most fixed-lens cameras and even some entry-level system cameras, but they are not DSLRs. They have electronic viewfinders and big grips and lots of manual control (sometimes even RAW format capture), but photo quality tends to be closer to point-and-shoot territory.
Even so, we think that superzooms hold an important place in today's photo-gear landscape. Impossible shots become possible with extra zoom, and one superzoom is easier on the knees than a bag full of heavy, expensive telephoto lenses for a DSLR. Here are the best superzooms we've tested in 2012.
Canon PowerShot SX50 HS ($399-$479)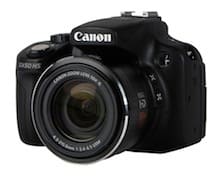 The Canon SX50 HS takes home our award for Best Superzoom Camera 2012 on the back of its enormous, genre-leading 50x zoom range. The lens stretches from a 24mm equivalent at the wide angle out to an insane 1,200mm at the telephoto end. Image quality is great, and the interface is easy enough for novices but offers plenty of control for more hands-on photographers, including PASM shooting modes and RAW capture. It's also equipped with an electronic viewfinder, as well as an articulating rear LCD. It can be awfully difficult to hold the camera steady at the maximum zoom setting, but in daylight you'll have no problem getting clear photos.
---
Panasonic Lumix FZ200 ($537-$599)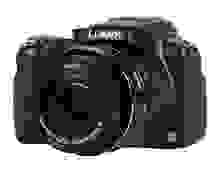 Though the zoom range is only 24x, the Panasonic FZ200 is our runner-up for Best Superzoom Camera 2012, and our top pick for amateur sports and action photographers. The lens maintains an aperture of f/2.8 throughout the entire zoom range, which makes it the current superzoom most likely to capture clear, blur-free photos from the stands of an indoor or evening sporting event. It has all the other trappings of the genre, too, including a viewfinder, articulating LCD, and a super-speedy 12fps burst shooting mode. Enthusiast photographers on the hunt for a superzoom should look here, as it has the best set of manual controls in the genre, too (including RAW).
---
Nikon Coolpix P510 ($330-$479)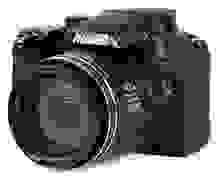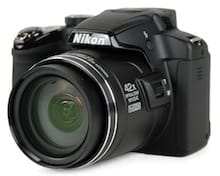 The Nikon P510 packs an impressive 42x zoom range into a smaller-than-it-looks body. Beginners will feel more at ease with the P510 than any of the other superzooms here, yet it's still capable of taking some great photos. It has a viewfinder, a tilting (but not swiveling) screen, and a comfy grip. It won't appeal to enthusiasts the way that the SX50 HS and FZ200 might, but it's totally capable of snapping great, casual photos—and with street prices hovering around $350, it's a heck of a deal.
---
And the Rest
• Sony Cyber-shot HX200V Sony's latest superzoom has a few intriguing design flourishes and decent performance, but the competition is too stiff to earn a wholehearted recommendation.
• Fujifilm XS-1 Designed to appeal to enthusiasts who want better handling and image quality than typical superzooms, the $799 X-S1 doesn't quite live up to its potential—or price tag.