Cameras
The Ricoh Theta Can See (Almost) Everything
In an industry where virtually everything has been done, Ricoh just came up with a new angle.
Credit:
Today Ricoh announced the Theta, a unique imaging device that records 360-degree images. There have been plenty of camera lenses that can see 180 degrees or more—Nikon even produced a 6mm fisheye that could capture 220 degrees, effectively seeing behind itself—but this is the first to produce a perfectly spherical image.
How does it manage that, you ask? By bridging two 180-degree fisheye lenses, two prisms, and two sensors. The next question to mind is probably, "How much does it cost?" The answer: a wince-inducing $399.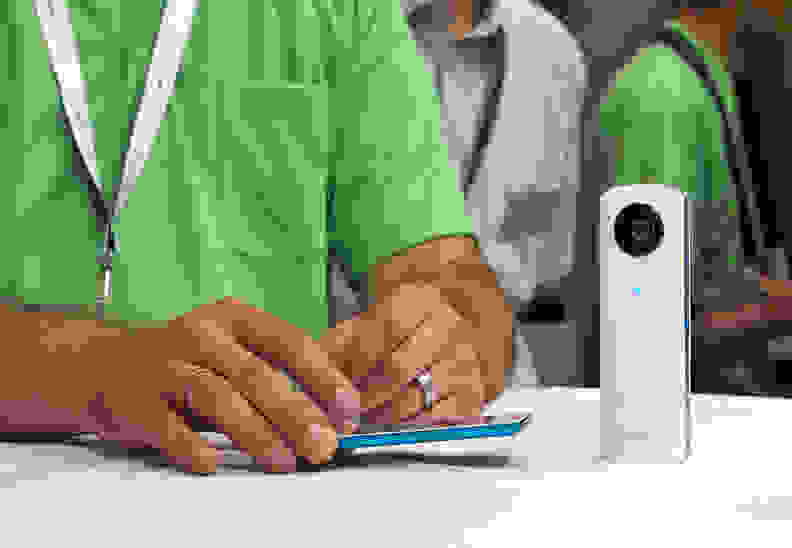 The sleek, slim, wand-like device comes in matte white with blue LED accents, looking like your old iPod's long lost cousin. The two bulbous lenses stick out just a little to either side without any protection, so we have to wonder how well they'll stand up to vigorous everyday use. The buttons are minimal: one to power the device on, one to toggle WiFi, and one to shoot.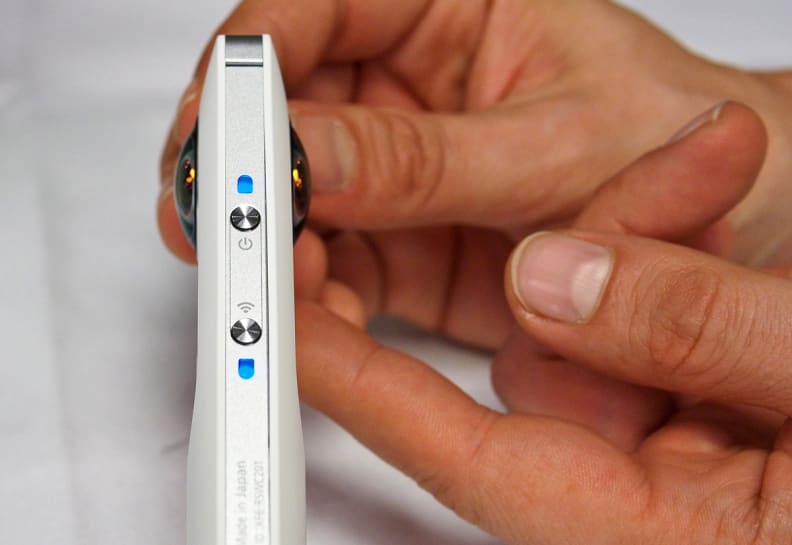 The device is meant to be paired with a smartphone or other connected device—at the Ricoh press event, the demo units were placed alongside 5th generation iPod Touches. Ricoh says the Theta will work out of the box with the iPhone 4S and iPhone 5 as well, and project leader Shu Ubukata says the company hopes to roll out Android support by the end of the year.
Ricoh's iOS app is simple and straightforward, allowing for one-touch shooting via the phone's screen as well as the dedicated shutter button on the Theta itself. Since the fisheye lenses provide virtually infinite depth of field (everything from 20cm on out) and can see in any direction, there's no focusing or framing to worry about.
It takes about 15 seconds for each 1000 by 2000-pixel image to transfer to your phone, and then it shows up in a spherical interface within the app. From there, you can pinch to zoom or swipe to spin around the sphere. The Theta doesn't record video, but Ricoh suggested that future iterations of the product might.
Images can be uploaded to theta360.com, and then shared to Facebook, Twitter, and Tumblr.
Images can be uploaded to theta360.com, and then shared to Facebook, Twitter, and Tumblr. Images from the Theta can also be processed in Microsoft's powerful Photosynth 3D imaging application.
The Theta can be preordered starting this month in the US, UK, France, and Germany (along with, one assumes, Ricoh's home country of Japan). For all the details, check out the press release below, or head over to Ricoh Imaging's press room.
---
Ricoh to Market Mass-produced Imaging Device for Fully Spherical Imagery
Sales begin in various markets next month for general consumers
Tokyo and Berlin, 5 September 2013 — Ricoh Company, Ltd. announced today the launch of the RICOH THETA, the world's first mass-produced imaging device that encapsulates fully spherical scenes with one shot. The handheld device, to be sold at a base price of USD 399, will be available for preorder this month in France, Germany, the UK and the US at theta360.com.
Developed and manufactured by Ricoh, the device will be marketed by subsidiary Ricoh Imaging Company, Ltd. through its French, German, UK and US online-exclusive sales channels starting October.
The RICOH THETA features a proprietary ultra-small twin-lens folded optical system that captures the scene around, above and below the device in one shot for unprecedented, fully spherical images. Fitting easily in a pocket or the palm of a hand, the slim, lightweight (95-gram) RICOH THETA is a go-anywhere device suited to confined spaces, the great outdoors and everywhere in between.
The device is synchronized with smartphones, where images can be immediately transmitted via Wi-Fi® and viewed with a dedicated free app. The app also allows images to be pinched, swiped or rotated to edit size, shape and composition. Images uploaded to theta360.com can be shared on social networks such as Facebook™, Twitter™ and Tumblr, as well as Microsoft®'s Photosynth®.
At launch, the RICOH THETA will be compatible with the iPhone 4S and iPhone 5 running on iOS™ 6.0 or above, supported by RICOH THETA for iPhone, a free iOS app available at App StoreSM. Android™ compatibility is expected before the end of the year.
"The RICOH THETA enables people to capture, explore and share their creativity and new visions of life," said Wataru Ohtani, associate director of Ricoh's New Business Development Center. "By encapsulating everything and everybody within a cohesive sphere in one simple shot, it will help users to perceive the interconnections that we all share. The RICOH THETA connects users with their own cognitive and non-cognitive senses, and ultimately with other people."
"The RICOH THETA is a groundbreaking device for general consumers of all ages and all photographic skill levels," said Noboru Akahane, president of Ricoh Imaging. "Its unprecedented capability to capture fully spherical images, coupled with affordability and user friendliness, makes the RICOH THETA a tool that anybody can use to discover and share their powers of creativity."
"The RICOH THETA isn't just a big step forward in panoramic photography," according to Blaise Agüera y Arcas, Distinguished Engineer at Microsoft, and Architect of Photosynth. "It changes the nature of photography itself: You can shoot first and crop later, or share the full sphere including the photographer. It's an exciting product, and Microsoft is proud to be partnering with Ricoh by integrating support for the RICOH THETA in the Photosynth mobile app."
Up next
Get Reviewed email alerts.
Sign up for our newsletter to get real advice from real experts.