Cameras
This March, You Can Buy Earth's Only Moon Camera
But there are 13 more you can have for free... if you can get into space.

Credit:
During the Apollo missions, NASA's astronauts brought special Hasselblad 500EL cameras outfitted for use on the surface of the moon. Most of these 70mm cameras never made it back—the astronauts left them on the moon, since weight was critical and bringing back moon rocks was more important. But one did go round trip, and it will be up for auction later this year.
The camera in question is a Hasselblad 500EL EDC (serial number 1038) that was used during the Apollo 15 moonwalks by astronaut Jim Irwin. Custom engravings and a one-of-a-kind Reseau plate prove its authenticity. This unusual accessory sits just in front of the film plane and is engraved with crosses and the number 38. These markings show up on all shots taken with Irwin's Hasselblad, providing markers that allowed NASA scientists to easily determine the scale of objects on the moon.
As you might expect, the NASA-spec Hasselblads are heavily modified. Each was outfitted with the aforementioned Reseau plate, along with stripped down controls so that it could be operated with bulky space gloves. These cameras also had their viewfinder removed and were equipped with special 60mm Zeiss Biogon lenses with polarized plates on the front.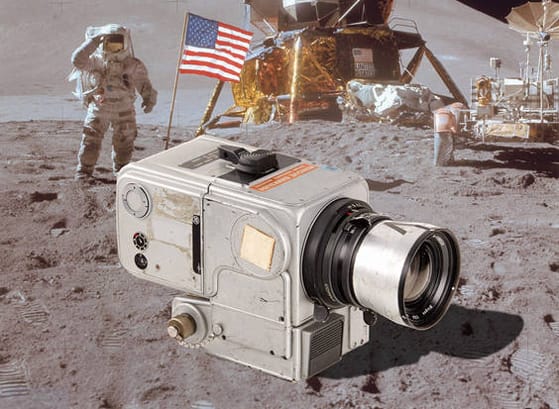 It's not clear why this particular camera made the return trip while the others were left behind, but it's been well taken care of since then. Prior to going up for auction, it was owned by Alain Lazzarini, author of a book about Hasselblad's relationship with NASA.
The camera is being sold by the Westlicht auction house in Vienna, Austria on March 22 this year. The starting bid will be €80,000 (approximately $100,000), though the estimated value is between €150,000 and €200,000, according to appraisals.
WestLicht's site says that this is one of only 14 Hasselblad HEDC cameras brought to the moon by NASA's enterprising voyagers. Interestingly, Hasselblad's site states that only 12 HEDC cameras were used during the Apollo missions.
We're not sure who's right, but either way this is an extremely rare camera—with a price to match.
Via: The Verge