Cameras
Three Camera Updates from Olympus
Olympus unveiled new cameras in three product categories today: the rugged 1050 SW (shown here), the ultra-zoom SP-565 UZ and the skinny Stylus 1040
August 25, 2008 - Olympus unveiled new cameras in three product categories today: rugged, ultra-zoom and skinny. All three are due to ship in October, at prices ranging from $199.95 to $399.95.
New to the company's line of weatherproof cameras is the 10.1-megapixel 1050 SW ($299.99), which takes its cue from the motion-sensitive Nintendo Wii video game controller to introduce Tap Control. Like the Wii controller, the 1050 SW incorporates accelerometers to detect movement. If the user taps the camera twice on the top, back or sides, that movement triggers a change in camera settings: turning on the flash, for example. The goal is to allow input in situations where pressing buttons on a compact camera would be inconvenient, like when the user is wearing gloves. And the camera is built to tackle difficult environments, in temperatures down to 14 degrees Fahrenheit (-10 C) and 10 feet (3 m) underwater (less aggressive than the existing 1030 SW, which works in 33-foot (10 m) depths). Olympus also claims the 1050 SW will withstand a five-foot drop without damage. The 1050 SW features a 3x zoom lens, a 2.7-inch display, and a choice of four colors (blue, champagne, silver and black). It weighs in at 5.4 oz. (152 g) without battery or memory card, and measures 3.7" x 2.4" x 0.76 (93 mm x 62 mm x 19.3 mm).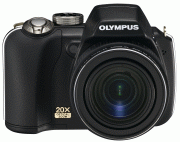 On the ultra-zoom front, Olympus introduced the SP-565 UZ, which it claims is "the world's most powerful ultra-zoom digital camera." The SP-565 UZ delivers a 20x zoom lens (26 - 520mm equivalent), with apertures ranging from f/2.8 at the widest setting to f/4.5 at maximum telephoto, The combination of sensor-shift and ISO-boosting dual image stabilization is designed to make long-lens handheld shooting practical. The 10-megapixel camera measures 4.6" x 3.3" x 3.2" (116 mm x 83.3 mm x 80.8 mm) and weighs 13.2 oz. (373 g), with a 2.5" (6.4 cm) LCD display and an electronic viewfinder. It will sell for $399.95.
Finally, Olympus unveiled its thinnest Stylus camera ever with the 0.65" (16.5 mm) Stylus 1040. This 10.1-megapixel model, with a 3x zoom (38 - 144 mm equivalent) features a 2.7-inch LCD, in-camera panoramic photo stitching and digital-only image stabilization. In addition to face detection, the Stylus 1040 includes smile detection, which holds off on taking a photo until it recognizes a toothy grin, then automatically fires three shots in succession. Dimensions for this lightweight 3.8-ounce (108 g) camera are 3.5" x 2.2" x 0.65" (89 mm x 55.5 mm x 16.5 mm). It will be available in black or silver at $199.99.