Cameras
Three Pentax Introductions Include SLR-Styled Optio I-10 Compact Camera
January 25, 2010 – Three new Pentax compact camera introductions today include the SLR-shaped Optio I-10 (shown left), 12.1-megapixel 5x zoom Optio H90 (right) and sub-$100 Optio E90.
January 25, 2010 – Three new Pentax compact camera introductions today include the SLR-shaped Optio I-10 shown here, 5x zoom Optio H90 and sub-$100 Optio E90.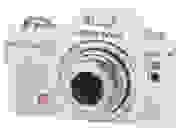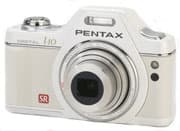 The unique Optio I-10 design is sure to draw some now-you-see-it, now-you-don't attention. From the front, it has the prism-shaped top we associate with a traditional SLR design. Look a little closer, though, and you realize that the I-10 is a 1.1-inch-thick compact model, with the flash positioned in the front of the top bump and the speaker on the back in the viewfinder spot. There's even a faux leather raised grip on the front, another nod to SLR expectations.
The 12.1-megapixel I-10 has a 5x zoom lens (28-140mm equivalent) and a 2.7-inch, 230,000-dot LCD (the same spec as the H90 and E90 introduced today). The I-10 offers both sensor-shift image stabilization and the Pentax Pixel Track shake reduction technology. Smile capture and blink detection are supported along with an enhanced face detection system that can now ferret out dogs and cats as well as humans (but not ferrets). The I-10 provides 720p video capture at 30 frames per second, but lacks the HDMI port required to connect directly to an HDTV. It will be available in February 2010, in black or white, for $299.95.
The Optio H90 has its own distinctive look, particularly in the unusual silver and orange color scheme shown here (more conservative white and matte black versions will also be available). Like the I-10, this is a 12.1-megapixel camera with 5x zoom and 2.7-inch LCD, with 720p video capture capability. It does not have mechanical image stabilization, relying entirely on pixel-tracking digital processing. The H90 will ship in February for $179.95.
The third introduction today is the $99.95 Optio E90, a 10-megapixel model with 3x zoom (32-96mm equivalent), a 2.7-inch LCD and standard-def video. Unlike the other two new cameras, the E90 is powered by AA batteries instead of rechargeables, which creates a bump that serves as a right hand grip. Also slated to ship in February, the E90 will come in black and wine red.