December 6, 2004 — Perhaps this isn't the most advanced camera with manual functions, but it is certainly an innovative idea. Trek 2000 International announced it will launch its ThumbDrive Camera in India next year. The company sold a license to Bangalore-based Bharat Electronics to manufacture and sell the device locally. The ThumbDrive Camera is not yet available in the United States, although other ThumbDrive data storage products are on store shelves in the country.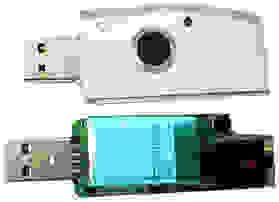 There are two major draws to this camera. The first is its portability; it measures 2.7 x 0.9 x 0.4 inches and weighs 0.7 ounces. The second and arguably most attractive feature is its easy data transfer interface. Most cameras require a separate USB cable, but the USB is a part of this camera. In essence, users simply plug the camera straight into their computers and download images at 25 megabytes per second. This camera could be used by realtors who sell their properties online or by eBay sellers who need quick photos of their products.
The ThumbDrive Camera can shoot and store about 3,000 pictures or shoot two minutes of video and record eight hours of audio. The camera has webcam capabilities. Its video mode records 30 frames per second at 640 x 480 resolution. It also records images at 640 x 480 resolution, which can barely produce 4 x 6-inch prints without pixilation. This camera would not be ideal for family events and important shots, but it could be used for online photo applications such as real estate or dating services.
Trek 2000 International offers a line of 15 data storage devices for general, high-security and consumer applications. The ThumbDrive Secure can extract information from a computer without leaving a trace on the computer's memory. The ThumbDrive Swipe scans fingerprints and saves them to memory. There are also consumer drives made for storing music and documents.