Cameras
UCSD Develops New Way to Search Images
Read about the Supervised Multiclass Labeling system developed by UCSD researchers. The system may be the future of image search engines.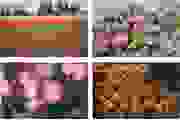 April 5, 2007 - Internet search engines look for an image not by its content, but rather the file's title or accompanying descriptive text. Image search results are often vast, but not entirely accurate. Electrical engineers from UC San Diego are working to create a new way to search images; they have developed Supervised Multiclass Labeling, a trainable system that can recognize the content of an image.
"Right now, Internet image search engines don't use any image content analysis. They are highly scalable in terms of the number of images they can search but very constrained on the kinds of searches they can perform," said Nuno Vasconcelos, a professor of electrical engineering at the UCSD Jacobs School of Engineering and senior author of a paper in the March 2007 issue of the IEEE journal TPAMI. The paper was coauthored by Gustavo Carneiro, a UCSD postdoctoral researcher now at Siemens Corporate Research, UCSD doctoral candidate Antoni Chan, and Google researcher Pedro Moreno, according to the press release.
The Supervised Multiclass Labeling system is based on a set of algorithms. Training the system begins by exposing it to a large amount of images containing the same visual concept. The system splits the image into 8x8 pixel squares, extracts information from them and builds a mathematical model to help it recognize and label new images. Once an image is labeled, it can be retrieved via keyword searches.
"[Training SML] is not that different from the way you teach a person. You show it lots of examples," said Vasconcelos in a video on USCD's website.
According to the researchers, SML addresses problems with similar systems that use content analysis. It improves upon accuracy, can decipher multiple objects in an image, and can be applied to larger image databases. Currently the system only has about 400 words, making it useful only for small image collections, but researchers are hopeful the system will one day be used by Internet search engines.
"…Our semantic search system is not fully scalable yet, but if we're clever, we will be able to work around this limitation. The future is bright," said Vasconcelos in the release.
See professor Nuno Vasconcelos talk about SML or click here for more information about the SML project.