Cameras
Vision Research High Speed Camera Unveiled
Read about Vision Research's new Miro 3 camera that can capture at 2200 frames per second.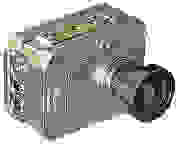 April 30, 2007 – High speed camera manufacturer Vision Research this month announced the first of their Phantom high speed cameras called the Miro 3. Designed for automotive crash testing, the Miro 3 camera can capture images at a high speed of 2200fps.
The New Jersey-based company was established in 1950 and produced the world's first medium-format digital cinema camera, the Phantom 65, according to the company website. Vision Research provides imaging equipment for testing products in motion that the human eye cannot detect, as such in vehicle crash testing. At this year's NAB Show (National Association of Broadcasters), Vision Research unveiled their Miro 3.
"[The camera] can slow an event down to watch in slow motion," said Vision Research Director of Marketing Rick Robinson in an interview with DigitalCameraInfo.com. Akin to the crash dummy commercials on TV, the Miro 3 camera and included software allows users to watch split-second events.
Called "compact, light-weight, rugged," the Miro 3 camera measures 4.3 x 2.6 x 3.2 inches and weighs roughly 2 pounds, according to the release. The Vision Research camera has a frame rate of 2200fps at 512x512 resolution or 9500 fps at 32x32 pixel resolution.
The metal bodied Miro 3 can survive an impact of 100g, that is, 100x the force of gravity, making it apt for harsh environments with vibrations of explosions, according to Robinson.
The camera has a shutter speed of 2 microseconds and a light sensitivity of 4800 ISO, allowing users to freeze motion for analysis. Users can trigger the camera externally and store the time-stamped images on the camera's built-in 2GB memory.
Possible uses for the Miro 3 camera include automobile testing for airbags, collisions, and baby seats, as well as aircraft and weapons testing, according to Robinson. Future versions of the high speed camera could include higher picture resolution, more camera controls, and on-camera viewing, he said. Vision Research plans to announce another camera this summer.
An informational video about Vision Research and the Phantom product line is available at www.visionresearch.com/movie/ and www.visionresearch.com/index.cfm?sector=htm/files&page=miro3.