Cameras
Yahoo and Reuters Launch Citizen Journalism Site, Sparks Controversy
Yahoo and Reuters Launch Citizen Journalism Site, Sparks Controversy, You Witness News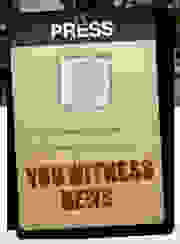 *December 5, 2006* – Yahoo! News, in conjunction with Reuters, today launched You Witness News, an online source where users can submit photos and videos and receive payment if distributed by Reuters.  Not even a day old, Yahoo's citizen journalism You Witness News site has already sparked controversy. 
Today's headlines show the uproar. "Yahoo! Lets You Play Journalist," states Techtree.com.  "Who Needs Paparazzi When Yahoo! and Reuters Make Us All Photojournalists?" says Australian site iTWire.  "Have Camera Phone? Yahoo and Reuters Want You to Work for Their News Service" stated a New York Times article published today.
Still images and video by everyday photographers will join the ranks, or at least the website toolbar, alongside photography by the AP, CNN, and Reuters featured on Yahoo! News.  Users can email their photos to reuters.com or upload photos at http://news.yahoo.com and http://www.reuters.com/youwitness, and the pictures will then be published online.  Reuters may purchase the best images and distribute them on their news wire, according to a Reuters editors forum published yesterday. However, payment amounts or copyright ownership details have not been published. 

users, Yahoo! News is the number one online news source, according to Reuters.  The latest eyewitness edition could further validate citizen journalism as a legitimate news source. 

London bombings, and last year's Hurricane Katrina to everyday citizens.
The two media groups may be capitalizing on an already existing pool of citizen coverage that includes the Sept. 11 attacks, the Rodney King beatings in L.A., and goes as far back as John F. Kennedy's assassination footage.
"Yahoo needed a more efficient process for soliciting and publishing user-contributed photos and video," said Scott Moore of Yahoo Media Group in a Reuters news article published yesterday. 
Discrepancies among the two media groups have surfaced as to what to call the new citizen coverage.  Reuters has used the term "user-generated" content and Yahoo! has called it "user-contributed" content.
Debates about You Witness News flowing on the web brings to the forefront whether citizen eyewitness accounts can be trusted as an accurate source of news. The Yahoo! You Witness News site offers guidelines for citizen journalists by the BBC and Wiki News.  The site also features video links with tips on how to tell a story by Yahoo! News correspondent Kevin Sites.  "You don't have to be a war correspondent to put a human face on your story, ' said Sites in the video, 'all you need is a camera and a desire to tell a good story." 
To help along new journalists, another feature video shows a 1.5 minute clip explaining how to upload videos and what "capturing" is.  Sites further notes that "Just because you have the gear doesn't make you a journalist." 
Still in its beta version, You Witness News will expand its coverage to text and allow writers to submit their user-generated/user-contributed coverage to the site, according to Yahoo! representative Scott Moore. No doubt, this will ignite another fire of controversy among print reporters and photojournalists.