*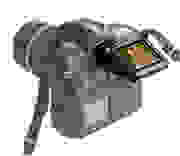 June 7, 2005 *- South Korea's Seculine Corp. has unveiled the ZigView Digital Angle viewfinder which mates a 1.9-inch LCD and CMOS sensor to the optical viewfinder of digital and analog SLRs. The small wedged shaped ZigView connects to the optical viewfinders of SLRs and allows a live view of the image from above or below the camera. The ZigView was introduced in South Korea in late March and is already on sale in Europe, with North America expected to follow in short order.
Seculine has designed this accessory because SLR users have to deal with certain low or high angles, which make composition through the traditional optical viewfinder tough. When mounted with the screen facing upwards, the ZigView allows users to look straight down at the image taken at a lower angle. The ZigView can also be rotated to face down, to allow a photographer to raise the camera at a high angle while still being able to compose the shot.

According to the manufacturer, the ZigView will work with most digital and film SLR cameras. The ZigView ships with an eyepiece adapter for Nikon, Fuji, and Canon cameras. Adapters for Konica-Minolta and Pentax cameras are only available as accessories.
The ZigView is retailing in Europe and Korea in the $220 range. The accessory adapter sells for around $13.